Microsoft often introduces new technologies and features to provide best-in-class service to the administrators and users. However, it's hard to adopt new technology when it comes to the organization as it involves a lot of migration. Also, its usual to say good-bye to the old one when the new thing arrives.
Here, we have documented a list of Office 365 services/products/technologies that are going to die in 2020. The list includes both end-of-support and deprecation.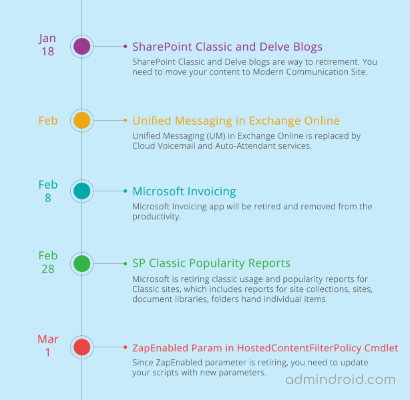 To easily keep track of the Office 365 end-of-support timeline, we have generated a timeline-based cool infographic!
We have also created a printer friendly version that you can print and stick in your desk.
Don't miss out on the latest buzz in Microsoft 365! 🐝
Windows 7 End of Support and Office 365 ProPlus (Jan 14,2020)
Windows 7 will be out of support after Jan 14, 2020. So, Office 365 ProPlus on Windows 7, won't receive any new feature updates.
Through January 2023, Microsoft will provide security updates for Office 365 ProPlus on Windows 7. But using Office 365 ProPlus on older, unsupported operating systems may cause performance and reliability issues over time. This End of support includes Windows Server 2008/R2 and Windows Server 2012/R2.
Solution:
So, organizations need to migrate to Windows 10 or a supported operating system before Jan 14, 2020, to continue receiving new feature updates to Office 365 ProPlus.
Deprecating TLS 1.0 and 1.1 in O365 GCC High and DoD (Jan 15, 2020)
Starting on Jan 15, 2020, Office 365 in the GCC High and DoD environments will deprecate TLS 1.1 and 1.0. If you do not update to TLS 1.2 to later version by Jan 15, 2020, you will experience connection issues in Office 365.
Solution:
Make sure that all combinations of client-servers and browser-servers should use TLS version 1.2 or later version to connect to Office 365 services.
Retirement of SharePoint Classic and Delve Blogs (Jan 18, 2020)
SharePoint classic blogs and Delve blogs are way to their retirement.
For Classic blog users:
Jan 18, 2020, the classic blog site template name will be renamed to "Blogs (retired)".
July 17, 2020, the ability to create new classic blog sites through the user interface will be turned off.
For Delve blog users:
Jan 18, 2020, tenants will not have the ability to create new Delve blogs.
Feb 18, 2020, the ability to create new, or edit existing posts, in existing Delve blogs will be disabled.
July 17, 2020, existing Delve blogs will be deleted and removed from Delve profiles
Solution:
You can transition your existing blog content to a modern communication site by using PnP Page transformation tool.
Retiring Unified Messaging in Exchange Online (Feb 2020)
Microsoft is retiring Unified Messaging (UM) in Exchange Online and replacing it with Cloud Voicemail and Auto Attendant services. This impacts voicemail processing and Auto Attendant in Exchange Online for all customers using these workloads.
The following servers connecting to Exchange UM Online will be transitioned by Microsoft to Cloud Voicemail on or before February 2020:
Lync Server 2013
Skype for Business Server 2015
Proactive step:
Lync 2010 Servers connected to Exchange Online Unified Messaging will not be transitioned or supported with Cloud Voicemail. So, you need to upgrade to Skype for Business Server before Feb 2020.
Retirement of Microsoft Invoicing (Feb 8, 2020)
Microsoft Invoicing app, which is part of Office 365 Business Premium Edition (available to users in Canada, UK, and US), will be retired and removed from the productivity suite on Feb 8, 2020.
Proactive step:
There is no solution. Just a workaround. Users can export invoicing and customer data from the application before it's lost.
SharePoint – Classic Popularity Reports Retirement (Feb 28, 2020)
Microsoft is retiring classic usage and popularity reports for Classic sites, which includes reports for site collections, sites, document libraries, folders hand individual items. These usage reports will not be available after February 29, 2020.
Solution:
If you use classic sites and require usage data, you can download historical data for all these popularity reports until February 29, 2020.
You can get site usage popularity reports from the modern Site Usage page. On that page, you can access usage data for the last 90 days. The data represented in the Modern site usage report includes data from Classic sites as well as from Modern sites.
Retirement of ZapEnabled Parameter in HostedContentFilterPolicy Cmdlets (Mar 1, 2020)
ZapEnabled parameter in HostedContentFilterPolicy specifies whether to enable Zero-hour Auto Purge (ZAP) for phish and spam content in the cloud-based organization. Microsoft is retiring ZapEnabled on Mar 1, 2020.
Solution:
HostedContentFilterPolicy supports two new attributes SpamZapEnabled and PhishZapEnabled. If you have used ZapEnabled in your scripts/application, you need to update them to use SpamZapEnabled and PhishZapEnabled.
Exchange Online PowerShell – Retiring Search-Mailbox Cmdlet (Apr 1, 2020)
Microsoft is retiring MailboxSearch cmdlets on Apr 1, 2020. So, you can't use those cmdlets to create In-Place eDiscovery and In-Place Holds.
Solution:
You can use New-ComplianceSearch and New-CaseHoldPolicy in the Security and Compliance Center.
Power BI Retiring TLS 1.0 and 1.1 Support (May 31, 2020)
Microsoft is retiring Power BI support for Transport Layer Security (TLS) protocol versions 1.0 and 1.1 from the beginning of June 2020. So, older versions of browsers and operating systems that only support TLS versions 1.0 and 1.1 will no longer be able to view Power BI data.
Solution:
By June 2020, make sure your users who rely on Power BI are using supported browser versions and operating systems.
Office 365 Retiring TLS 1.0 and 1.1 (June 1, 2020)
Microsoft is planning to move all of its online services to TLS 1.2 or a later version to provide best-in-class encryption to its customers.
Starting Jun 1, 2020, Office 365 will begin retiring TLS 1.0 and 1.1, which means that all connections to Office 365 using the protocols TLS 1.0 and TLS 1.1 will not work.
Solution:
To ensure uninterrupted access to the Office 365 services, you need to update TLS 1.2 or later version.
Outlook Customer Manager (OCM) Retirement (June 30, 2020)
Officials were beginning to notify customers about the retirement of Outlook Customer Manager on June 30, 2020. After that, OCM will no longer be available.
Proactive step:
You can export your data before that date.
Deprecation of Legacy eDiscovery Tools (July 1, 2020)
Recently, Microsoft has announced about deprecating legacy eDiscovery tools – Advanced eDiscovery V1.0 and In-Place eDiscovery and Hold tool.
From July 1, 2020, you can't use these tools to perform eDiscovery searches, and In-Place holds. These tools will be placed in read-only mode, which means you will be able to remove existing searches and holds.
Solution:
You can use alternative tools for legacy eDiscovery tools like Advanced eDiscovery solution, Core eDiscovery cases, which available in Microsoft 365 Compliance Center.
End of support for Office 2013 Client Connectivity to Office 365 Services (Oct 13, 2020)
Office 2013 clients' connections to commercial Office 365 services will not be supported after Oct 13, 2020. However, Microsoft allows Office 2013 clients to connect to Office 365 services, but service may experience performance and reliability issues.
Solution:
Identify users on Office 2013 clients and deploy Office 365 ProPlus or version to those desktops
Office 2016 for Mac end of Mainstream Support (Oct 13,2020)
Mainstream support for Office 2016 for Mac will come to an end on Oct 13, 2020. However, you can use Office 2016 for Mac but, you will no longer receive any security updates and bug fixes.
Solution:
Upgrading to Office 365
Upgrading to Office 2019 for Mac
Basic Authentication Retirement for Legacy Protocols in Exchange Online (Oct 13,2020)
Last September, Microsoft announced about deprecating basic authentication in Exchange Online.
From Oct. 13, 2020, client apps that use following legacy protocols won't be able to connect to Exchange Online using Basic Authentication.
Exchange Web Services (EWS)
Exchange Active Sync (EAS)
IMAP4
POP3
Remote PowerShell (RPS)
Solution:
Applications need to use OAuth2.0 to connect to these protocols. You can prepare your organization for this change. For example,
You can update client applications to support OAuth 2.0,
Use Outlook mobile clients instead of Exchange ActiveSync.
This blog covers deprecating services used by most people. We will keep updating this list. If you want to get notified about new update, you can subscribe our blog.