Do you know all the available Microsoft 365 admin center reports? I swear, maybe some, but not all! Are you curious about the handy reports accessible within your Microsoft 365?
On that account, Microsoft 365 Built-in Reports- Blog Series might help you out! This series is a complete guide on Microsoft 365 admin center reports that play a crucial role in Office 365 reporting & auditing. It records and compiles every service report as a separate blog for better delivery. Here's the list of Microsoft 365 reports covered by this blog series.
After covering these many significant services, at last, this blog series brings the Microsoft Purview reports to the table. Microsoft Purview is the compliance portal of Microsoft 365, significantly used for maintaining content compliance, communication compliance, data loss prevention, information protection, and privacy risk management. Without further delay, let's dive into the Microsoft Purview reports and its functionalities in Microsoft 365 environment.
Microsoft Purview Reporting
Microsoft Purview helps you to securely manage all your data with information protection, data governance, and compliance management. Thus, analyze the native reports in Microsoft Purview for insights on sensitivity labels, retention labels, and data loss prevention policies, ensuring proper compliance management and DLP policy configurations.
The 10+ reports in Microsoft Purview are listed below to ease your reporting and monitoring process.

1. Microsoft Compliance Manager
Looking for a single space to manage your Microsoft 365 compliance? Then Microsoft Compliance Manager is here to help you out!
Microsoft security compliance manager is an advanced solution to manage compliance in organizations. This Microsoft compliance manager portal calculates your organization's compliance score, showcases improvement actions, regulations & assessments, and the alerts affecting compliance scores to achieve better compliance. To effectively manage and balance your Microsoft Purview compliance, it's essential to monitor two key components that contribute to your overall compliance score.
"Your points achieved" – Reflects your organization's adherence to compliance requirements and implemented controls.
"Microsoft managed points achieved" Represents the points contributed by Microsoft's cloud service provider controls.
By regularly monitoring and balancing these points, organizations can proactively address compliance gaps and maintain a secure environment in alignment with industry best practices and regulations.
By analyzing compliance manager portal, admins can effortlessly manage their compliance activities and reduce inadvertent risks associated with them.
More info- https://learn.microsoft.com/en-us/purview/compliance-manager
Link to report- https://compliance.microsoft.com/compliancemanager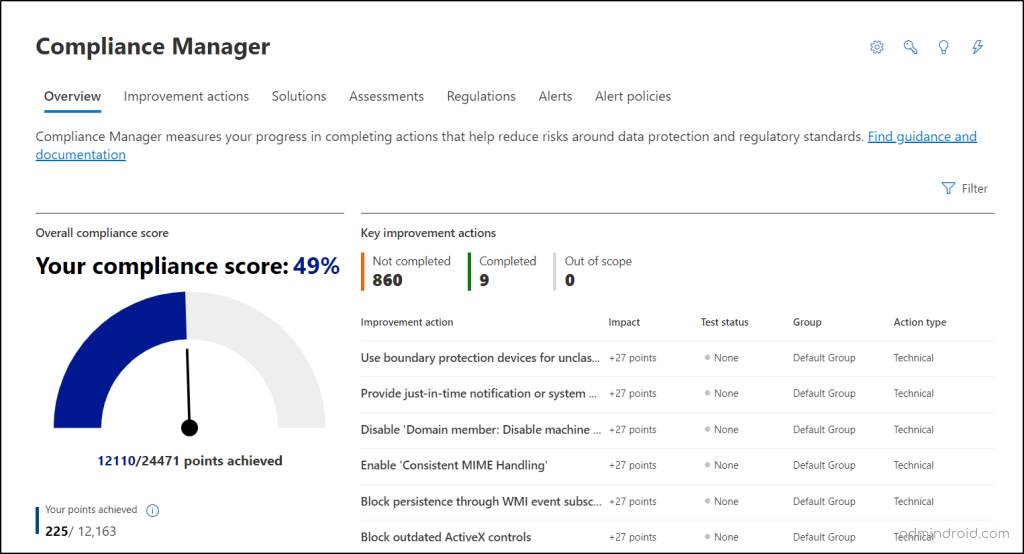 2. Microsoft Data Classification
Handling sensitive data like social security numbers or credit card numbers in an organization is always a headache to Microsoft 365 admins! Monitoring the data residence, user activities on the data, and data security has never been a piece of cake for admins. Thus, Microsoft brought Microsoft Purview sensitive data classification to make it simple! 😌
This intelligent data classification dashboard in the Overview page classifies the data in many ways & provides vital information on sensitivity labels, retention labels, and sensitive information types. More precisely, this lets you discover how & where sensitive info and labels are being used across EXO, SPO, OneDrive & other places. Few of the reports are:
Top sensitivity labels applied in Microsoft 365 and Azure Information Protection
Top retention labels tagged in your Microsoft 365
Locations where sensitivity labels are applied
Location where retention labels are applied
Daily labeling activity by users
Top sensitive information types
Top trainable classifiers
So, leverage the power provided by Microsoft Purview to monitor your sensitivity & retention labels and effectively handle your sensitive data both in transit or on hold.
More info- https://learn.microsoft.com/en-us/purview/data-classification-overview
Link to report- https://compliance.microsoft.com/dataclassification/overview

Microsoft Content Explorer
Microsoft data classification gives a summary, meanwhile, Microsoft content explorer gives a brief explanation!
Yes, explicitly view the content items that are tagged with sensitivity & retention labels in Microsoft content explorer. Here admins have access to information about how many items are classified and their storage locations & can delve deeper to examine the actual content of emails/documents.
This content explorer grants two types of permissions to view the sensitive content of your Microsoft 365. A global admin can assign these permissions by navigating through the below path.
Microsoft Purview 🡢 Roles & Scopes 🡢 Permissions 🡢Microsoft Purview Solutions 🡢 Roles 🡢 Content Explorer List View/ Content Explorer Content View
Microsoft Content Explorer List View – Members assigned under this permission can view the list of sensitive items and their locations. These members can know only the types of sensitive content, trainable classifiers, and their source locations in list format to maintain data privacy.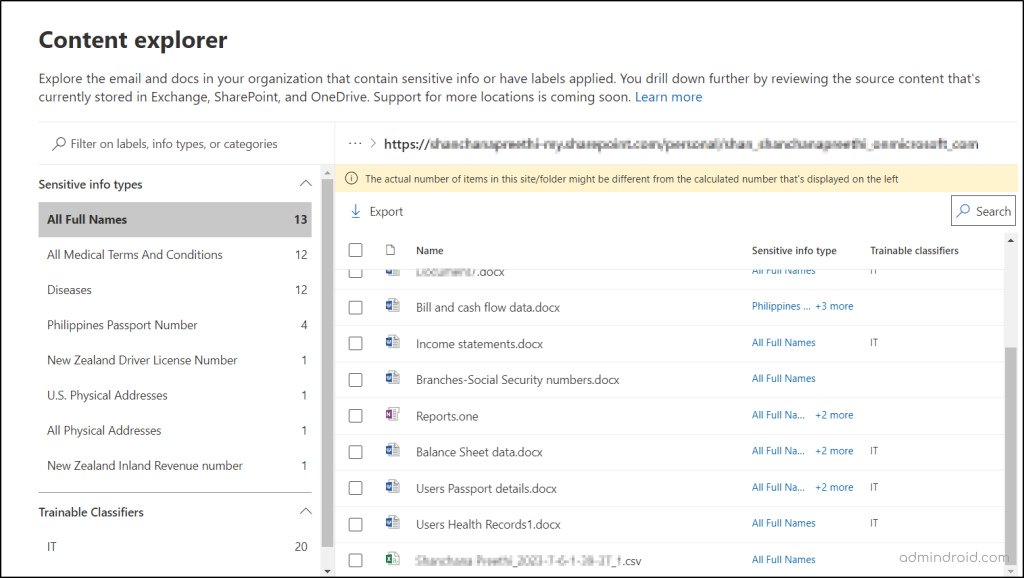 Microsoft Content Explorer Content View – Members assigned under this permission are allowed to view the content of each scanned file in the list. Here sensitive information is seen by the group members to review the information sensitivity and ensure proper labels & tags are associated with them.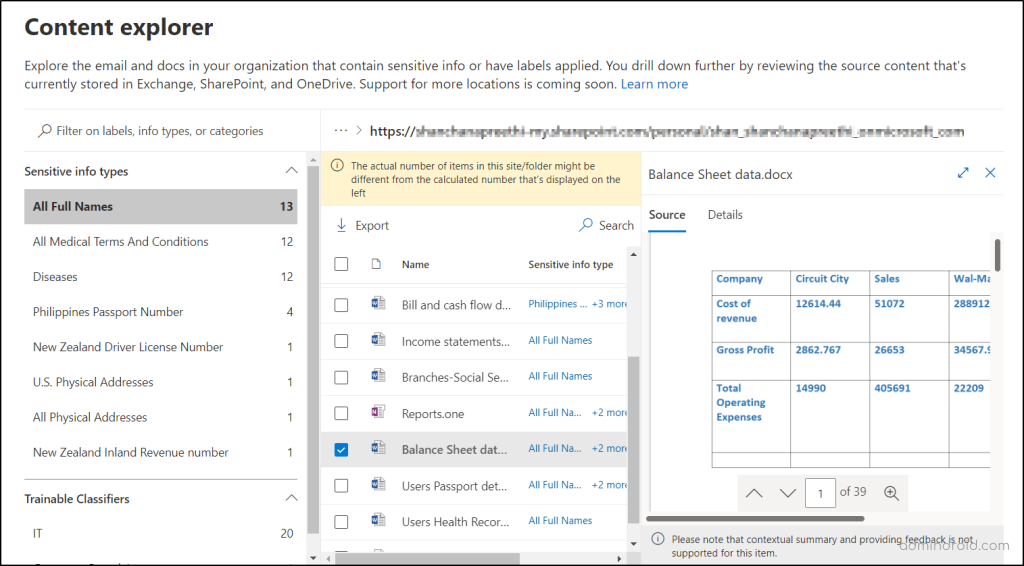 The permissions to view content explorer in Microsoft 365 are highly restricted because one can view the sensitive content stored in Exchange Online, OneDrive, Microsoft Teams & SharePoint Online here. Not only the list of sensitive labels applied to an item. So, make sure to give the least privileged access to content explorer and ensure the safety of your sensitive data even while monitoring them.
More info- https://learn.microsoft.com/en-us/purview/data-classification-content-explorer
Link to report- https://compliance.microsoft.com/dataclassification/contentexplorer

Microsoft Activity Explorer
Discovering and monitoring the labeled sensitive content is made easy with Microsoft data classification and content explorer. But Microsoft Purview offers a dedicated space to monitor user activities such as deleting, creating, modifying, copying to the clipboard, reading, printing, and many more held on your labeled sensitive content.
Now, visualize the history of user activities on sensitive data from Microsoft Activity Explorer with 30 different filters like user, date range, activity type, location, file path, DLP policy, etc.
More info- https://learn.microsoft.com/en-us/purview/data-classification-activity-explorer 
Link to report- https://compliance.microsoft.com/dataclassification/activityexplorer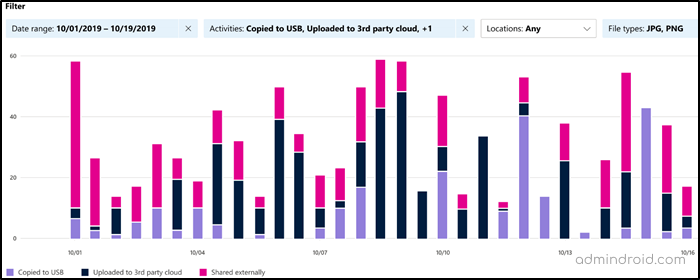 3. Microsoft 365 Alert Policies
In the ever-evolving landscape of virtual organizations, staying ahead of threats is paramount. Just as fire alarms protect physical spaces, Microsoft equips you with default alert policies to combat malware attacks, phishing campaigns, and unusual file deletions. But that's not all – admins can create custom Microsoft 365 alert policies, setting your desired severity levels for immediate, real-time notifications of any potential threats in your Microsoft 365 environment. Microsoft 365 alerting can be made easier with the following alert categories:
Data loss prevention in Microsoft 365
Microsoft 365 information governance
Mail flow management
Microsoft 365 permissions and roles
Threat management
But to monitor the alert status, one has to go to the Microsoft Purview Alerts page. The Microsoft Purview Alerts showcases the alerts triggered and generated matching the conditions of alert policies.
Discover policy details and monitor alert status in Microsoft Purview. With a keen eye on severity, tags, category, and active count, swiftly detect potential threats and promptly respond to them.
Further, admins can have a comprehensive view of Microsoft 365 activity alerts, including crucial information like user data, alert ID, insights diagnostics, and operations. This valuable report enables seamless governance and control over alert policies, ensuring a secure and protected environment for your organization.
More info- https://learn.microsoft.com/en-us/purview/alert-policies
Link to report- https://compliance.microsoft.com/compliancepolicies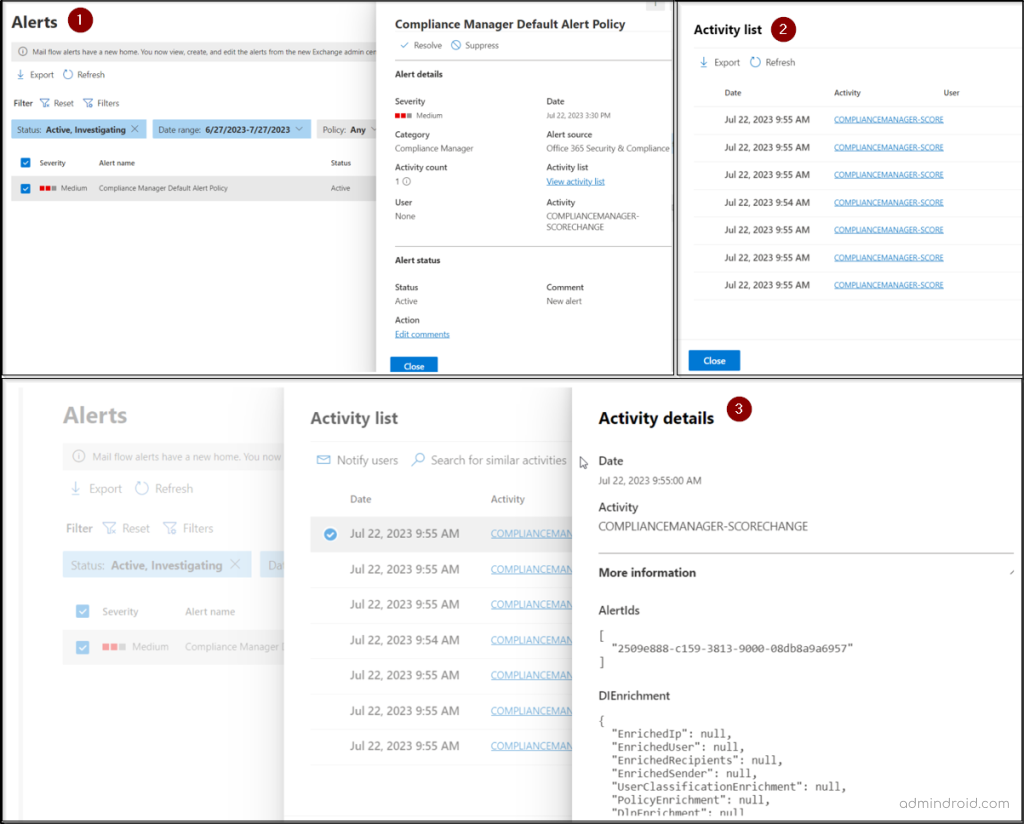 4. Microsoft 365 Audit Logs in Purview
Curious to know any user-specific activity in your Microsoft 365? Considering there is no pathway and it's a dead end for your search? No worries, unified audit logs pave the way! Search anything from scratch through unified audit logs in Microsoft Purview.
Microsoft Purview auditing solutions provide wider visibility into your user activities, Microsoft 365 security events, forensic investigations, and compliance obligations. It's definitely a one-stop solution for admins searching for answers! Effortlessly access all information about Office 365 activities from unified audit logs and enhance your compliance management. 
More info- https://learn.microsoft.com/en-us/purview/audit-solutions-overview
Link to report- https://compliance.microsoft.com/auditlogsearch 


5. Microsoft 365 Content Search
Microsoft Purview compliance portal offers a separate section to search all types of content in your Microsoft 365. Be it a mail, document, file, or a message now easily spot them under Microsoft 365 content search. Using this content search, you can find content from any of the following locations.
Exchange mailboxes
Microsoft Teams
SharePoint sites
OneDrive for Business
Skype for Business
Microsoft 365 Groups
Content search is really important in some situations.
Imagine this: Your organization is hit by an email attack. But don't worry! You can use content search to find and download the results! Then, you can delete those emails from everyone's mailboxes to keep your organization's data safe.
More info- https://learn.microsoft.com/en-us/purview/ediscovery-content-search-overview
Link to report- https://compliance.microsoft.com/contentsearch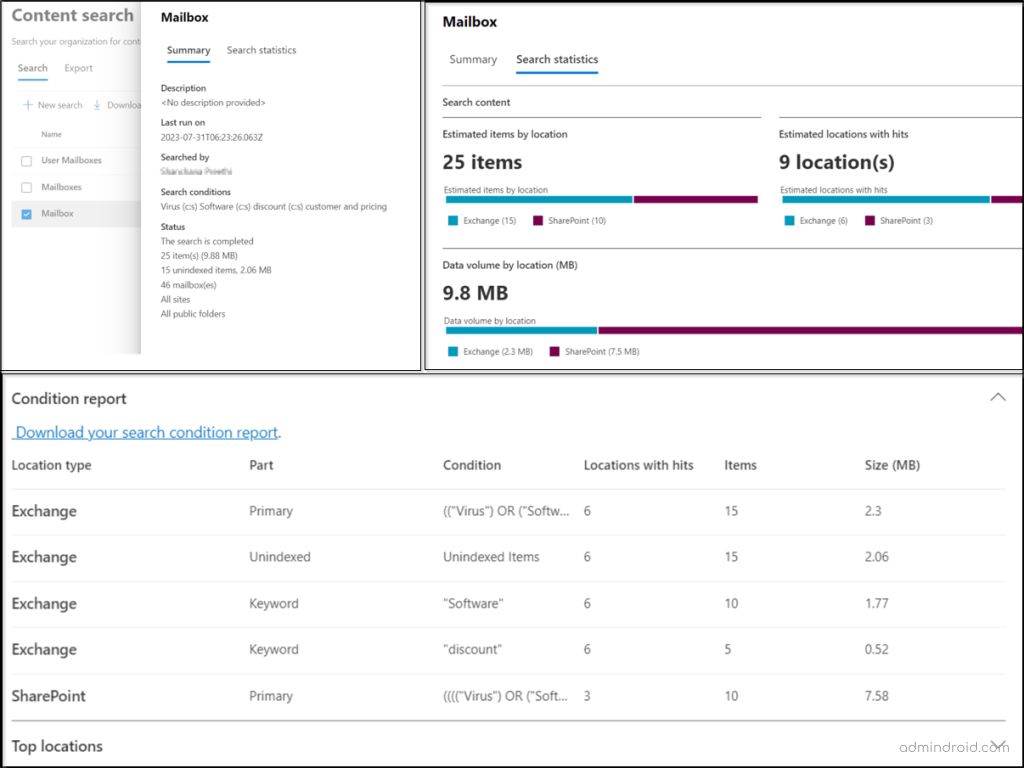 6. Microsoft Communication Compliance
Communication compliance is significant in business enterprises for fostering safe and compliant communications. Microsoft Purview Communication Compliance is a tool that helps to manage Microsoft 365 regulatory compliance and restrict inappropriate messages like sensitive, confidential, harassing, or threatening content.
Through communication compliance policies, admins can detect users violating corporate policies and identify & manage legal exposure risk. These policies enable monitoring email, Microsoft Teams, Viva Engage, and any third-party communication tool for compliance analysis.
Thus, IT admins should be careful in assigning these communication compliance role permissions, groups, and policies in increasing types of communication channels and message data volume. Create policies and monitor them to engage your users in compliant communications satisfying the Microsoft 365 compliance requirements.
More info- https://learn.microsoft.com/en-us/purview/communication-compliance
Link to report- https://compliance.microsoft.com/supervisoryreview

7. Data Loss Prevention in Microsoft 365
Don't let a simple human error compromise your organization's data integrity. With the data loss prevention policies in Microsoft Purview, you can rest assured that employee personal information, including social security numbers or addresses, remains under lock and key! The organization can identify and block such sharing through data loss prevention policies.
Microsoft data loss prevention is a solution that allows you to take preventive measures to avoid data spillage and breaches. Through DLP policy configuration, you can monitor the data loss incidents in and around your organization. The overview page in data loss prevention provides various reports which are listed below.
Device health overview – Check whether devices are fully protected, and policies are configured correctly through this dashboard.
Extend protection to auto-labeling – Set up and monitor auto-labeling policies that automatically apply sensitivity labels to emails when they match the DLP policy conditions.
Top activities detected – Track the user or admin file activity from here.
Protect files shared in Teams – Configure and monitor Teams' DLP policies to protect sensitive files in Microsoft Teams.
New incidents – Monitor the DLP incidents of your organization and resolve them for enhanced incident management.
More info- https://learn.microsoft.com/en-us/purview/dlp-learn-about-dlp
Link to report- https://compliance.microsoft.com/datalossprevention/overview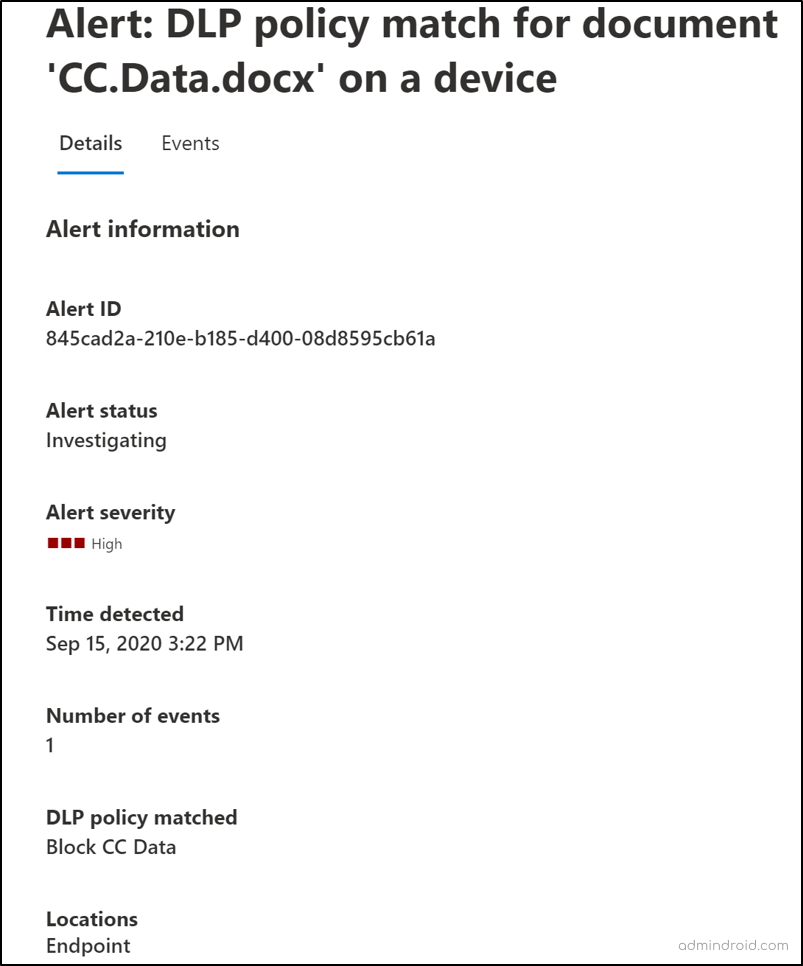 8. How to Use Microsoft eDiscovery?
Microsoft Purview eDiscovery solutions are used for finding and delivering electronic information about your content equipped as evidence in legal cases. Microsoft 365 eDiscovery solution is similar to content search, but the major difference between them is you need to create a case, and you can place your data on hold here.
Moreover, the availability of Microsoft eDiscovery capabilities differs depending on your Microsoft 365 licenses.
Microsoft Purview eDiscovery (Standard) is a primary tool used for searching and exporting content for case management and legal hold in Microsoft 365. Also, this Microsoft eDiscovery search tool is used to assign some roles to users for monitoring how Microsoft eDiscovery works. Microsoft eDiscovery roles like managers who oversee particular cases with an access restriction can access only that case.
On the other hand, you can enjoy Microsoft eDiscovery Premium capabilities such as custodian management, legal hold notifications, advanced indexing, reviewing set filtering, tagging, analytics, and many more with appropriate Microsoft eDiscovery licensing under E5 subscription.
Therefore, investigators can use compliance eDiscovery to handle legal cases, place the data on hold, and conduct compliance searches on multiple resource locations. Thus, use Microsoft eDiscovery and audit as an efficient tool in Microsoft 365 forensic investigation cases.
More info- https://learn.microsoft.com/en-us/purview/ediscovery
Link to report- https://compliance.microsoft.com/classicediscovery

9. How to Use Microsoft Data Lifecycle Management?
The data lifecycle involves the process of retaining or deleting content within your Microsoft 365 enterprise. Thus, admins can review the content stored and decide whether to retain or delete it through this section.
Retention policies in Microsoft 365 are the heart of Microsoft data lifecycle management.
Monitor all retention policies and label policies deployed in your organization through this Microsoft data lifecycle management page. Also, find all the users, SharePoint sites, or Microsoft 365 groups involved in data lifecycle management policies under Microsoft Purview.
Eventually, monitor and manage the data life cycle in your organization to satisfy compliance & regulatory requirements. Also, to reduce surface attacks by deleting unnecessary content in Microsoft Purview.
More info- https://learn.microsoft.com/en-us/purview/data-lifecycle-management
Link to report- https://compliance.microsoft.com/informationgovernance

10. Information Protection Policy in Microsoft 365
Microsoft Purview Information Protection which is formerly known as Microsoft Information Protection, is highly used to identify and safeguard an organization's data from data loss. Information Protection for Microsoft 365 offers multiple dashboards for increased information security in Microsoft.
Top sensitivity labels applied to content
Top activities detected
Locations where sensitivity labels are applied
Protect meetings in Microsoft Teams
Encryption Report
Purview information protection labels and supported file types reports such as sensitivity labels and top activities redirect to the data classification dashboard. But most importantly, information protection administrators can view the encryption report from information protection in Microsoft Purview.
This Purview Information protection encryption report showcases the messages protected by encryption. Both encryption by user and policy is displayed here, including the sender address, encryption template, encryption method, recipient address, subject, etc.
Note: Moreover, Azure Information Protection (AIP) is part of Microsoft Purview information protection used for sensitive file labeling and classification.
More info- https://learn.microsoft.com/en-us/purview/information-protection
Link to report- https://compliance.microsoft.com/informationprotection/overview

11. Information Barriers Policy in Microsoft 365
Although communication is significant for a business enterprise, boundless communication might lead to data exploitation or the root cause of internal conflicts! Then here comes the Microsoft information barriers policy to restrict & manage internal communication.
Information barriers in Microsoft 365 are a way to restrict unnecessary communication between departments, users, and groups. One can use Microsoft Purview to view these information barriers and the segments created in their organization.
What type of communication do the information barriers in SharePoint, Teams, or OneDrive restrict? Below are the actions that are restricted via information barriers policies:
Starting a chat with an unknown person
Inviting some unknown person to the organization meeting
Sharing a screen or placing a call with unauthorized personnel
Adding a member to the SharePoint site
Sharing site or content with restricted personnel
So be aware of the applied information barriers in Teams, SharePoint, and OneDrive for Business from the Microsoft Purview compliance portal. Ensure that information barriers are deployed in necessary places and don't affect the organization's workflow.
More info- https://learn.microsoft.com/en-us/purview/information-barriers
 Link to report- https://compliance.microsoft.com/informationbarrieroverview 
We have just now explored the Microsoft Purview reports majorly as the solution for Microsoft 365 compliance regulatory management. Are you expecting more or want to raise the bar in Microsoft 365 compliance audit?
Don't worry, here comes the AdminDroid Microsoft 365 Reporter as an answer to your raised standards!

AdminDroid Reports All the Way to Elevate Your Microsoft 365 Compliance Management! 
Without a doubt, AdminDroid will help you out with your Microsoft 365 regulatory compliance in stride! Do you know why? Because AdminDroid provides around 1000+ reports covering various standards such as SOX, PCI-DSS, GLBA, GDPR, HIPAA, FISMA, and CJIS for complete compliance analysis. In simple terms, AdminDroid eases compliance management with the following reports.
Microsoft 365 SOX compliance management – AdminDroid allows you to analyze & audit SharePoint and OneDrive files, evaluate critical access requests and permissions all around your Microsoft 365, and generate versatile reports on login activities in Office 365. Further, it lets you have a greater resolution of reports with the AdminDroid Search tool and allows you to preserve audit data and maintain audit trails for SOX compliance management. 
Microsoft 365 PCI-DSS compliance management – AdminDroid provides reports on access restrictions, security testing, identification and authentication of user access, and managing user access to resources for ensuring your organization complies with PCI-DSS protocols.  
Microsoft 365 GLBA compliance management – For enhanced GLBA compliance management, review access privileges, monitor security features, inspect DLP policy matches and configurations, and retain audit data by using AdminDroid reports.   
Microsoft 365 GDPR compliance management – AdminDroid excels in delivering advanced reports that swiftly find suspicious file-sharing events, perform comprehensive SharePoint & OneDrive file activity analysis, and meticulously monitor DLP policy matches, all aimed at ensuring impeccable GDPR compliance. 
Microsoft 365 HIPAA compliance management – Unlock comprehensive HIPAA compliance management with 100+ reports, overseeing e-PHI data access, non-owner mailbox activity, and e-PHI file integrity. Also, admins can assess the MFA implementation scale, retain audit data and elevate organization security effortlessly! 
Microsoft 365 FISMA compliance management – AdminDroid offers an extensive array of 150+ reports for FISMA compliance management. These reports cover vital aspects such as access control, user authentication, Microsoft 365 auditing & reporting, and incident analysis. 
Microsoft 365 CJIS compliance management AdminDroid compiles 200+ incredible reports on the identification of users & processes, authentication implementation & control, least privilege management, active & inactive user management, M365 sharing and access governance, incident analysis, and risk assessment for CJIS compliance.  
AdminDroid provides vital information like Microsoft 365 users, groups, and devices accessing organization data, admin privileges and their rights, changes made by user and devices, and many more for enhanced Microsoft 365 compliance management.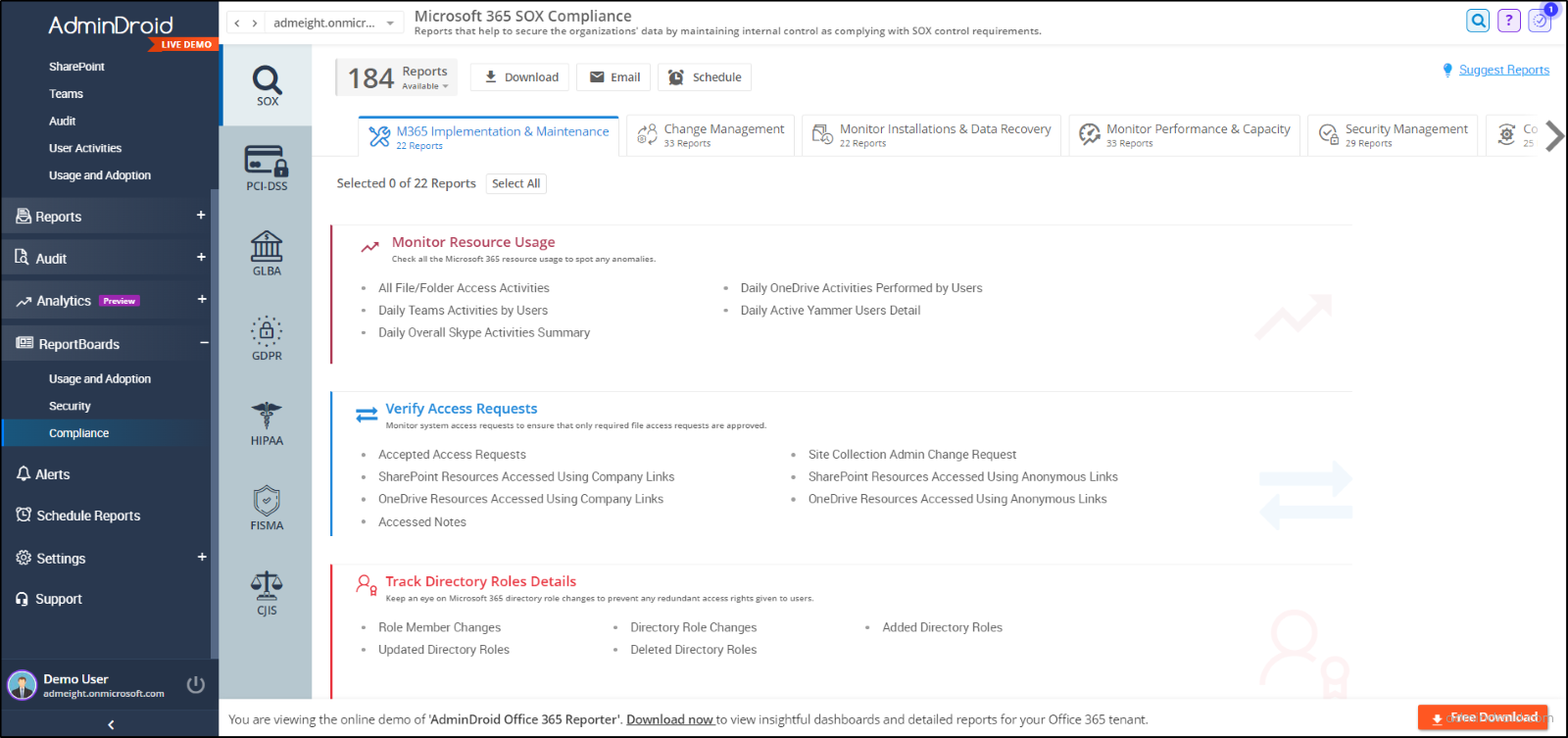 Aside from compliance auditing, AdminDroid is an extraordinary tool for Microsoft 365 reporting! It provides 1800+ comprehensive reports and 30+ sleek dashboards on various Microsoft services, namely Azure AD, Exchange Online, Microsoft Teams, SharePoint Online, OneDrive, and Yammer.
Are you curious why AdminDroid is a powerful reporting solution? Because AdminDroid has many marvelous features which will never fail to amaze you!
Most importantly, it has a user-friendly interface and a seamless setup process, requiring minimal upkeep, to swiftly perform Microsoft 365 reporting & auditing!
Then, pioneering features like AdminDroid alerting, scheduling, granular access delegation, and advanced customization filters make it the ultimate reporting solution.
Get ready to experience the mind-blowing capabilities of AdminDroid! Download now with a 15-day trial and explore the vast real of Microsoft 365 reporting & auditing capabilities!
By harnessing the insights from the native Microsoft Purview reports, you can confidently steer your organization towards meeting its compliance obligations, fortifying its information protection measures and enhance data governance.
Stay compliant, stay protected, and stay ahead in the game with Microsoft Purview reports!
We hope this blog provides you with vital knowledge of Microsoft Purview reports and their key roles in your Microsoft 365 environment. Feel free to reach us for any queries.