Every year, AdminDroid prepares a list of Microsoft 365 services, products, and technologies that are going to deprecate in a specific year. It helps Microsoft 365 admins and IT professionals to adopt new technology or take necessary action to avoid the last-minute rush. It's already 2022! So here is the top list of deprecations and End-of-support that are about to happen in Microsoft 365 in 2022.
To easily keep track of the Office 365 end-of-support timeline, we have generated a timeline-based cool infographic!
We have also created a printer friendly version that you can print and stick in your desk.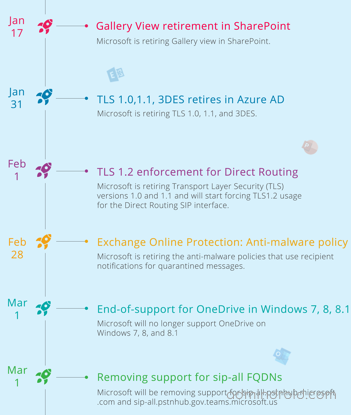 Don't miss out on the latest buzz in Microsoft 365! 🐝
Gallery View retirement in SharePoint (Jan 17, 2022) – MC300018
Gallery view transforms any list rows to the tile view, which is visually appealing. Form Jan 17, 2022, Microsoft is retiring Gallery view in SharePoint. After the retirement, users and admins can't see the 'Gallery View' option.
Solution:
Instead of using Gallery view, you can use Power BI Dashboard to publish selected parts of a workbook.
TLS 1.0, 1.1, 3DES retires in Azure AD (Jan 31,2022) – MC258228
To improve security when users/services interact with Office 365 cloud services, Microsoft is retiring TLS 1.0, 1.1, and 3DES from Jan 31, 2022. This date has been postponed from June 30, 2021, to Jan 31, 2022, to give Administrators more time to remove the dependency on legacy TLS protocols and cipher.
Solution:
Use TLS 1.2 and modern cipher suites on client/server applications, communicating with Azure Active Directory.
TLS1.2 enforcement for Direct Routing SIP interface (Feb 1, 2022) – MC297438
To provide the best-in-class encryption to customers, Microsoft is retiring Transport Layer Security (TLS) versions 1.0 and 1.1 beginning Feb 1, 2022, and will start forcing TLS1.2 usage for the Direct Routing SIP interface.
Solution:
To avoid any service impact, review your Session Border Controllers (SBCs) and ensure they are configured to support TLS 1.2.
Exchange Online Protection: Anti-malware policy retirement (Feb 28, 2022) – MC303513
If you have anti-malware policies that use recipient notifications for quarantined messages, it will not work after Feb 28, 2022. After the retirement, the resulting notifications will no longer be available in the portal or on the New-MalwareFilterPolicy or Set-MalwareFilterPolicy cmdlets.
Solution:
Instead, administrators can use the Quarantine policies to configure and deliver notifications to recipients.
End-of-support for OneDrive in Windows 7, 8, and 8.1 (Mar 1, 2022)
Microsoft will no longer support OneDrive on Windows 7, 8, and 8.1 starting on Mar 1, 2022. OneDrive desktop applications running on these operating systems will stop syncing to the cloud from Mar 1, 2022.
Solution:
If you want to use the OneDrive desktop application, you must update to a newer version of Windows.
Microsoft Teams: Removing support for sip-all FQDNs (Mar 1, 2022) – MC307310
On Mar 1, 2022, Microsoft will be removing support for sip-all.pstnhub.microsoft.com and sip-all.pstnhub.gov.teams.microsoft.us FQDNs from the Direct Routing configuration. After the end of support, if your organization uses sip-all FQDN, users will no longer make or receive calls via Direct Routing.
Solution:
You need to use the recommended subnets (52.112.0.0/14 and 52.120.0.0/14) for any classification or ACL rules. And discontinue using the sip-all FQDN when configuring Session Border Controls (SBC) for the Direct Routing.
Exchange Online: API retirements in Exchange Web Services (Mar 31, 2022) – MC296195
Microsoft is deprecating the 25 least used APIs of EWS for maintenance and security purposes from Mar 31, 2022. The list of APIs that will be retired is available here.
Solution:
Microsoft suggests using Microsoft Graph APIs. Microsoft Graph and OAuth 2.0 provide increased security and seamless integration with other Microsoft cloud services.
IE 11 desktop application retirement (June 15, 2022) – MC306663
IE11 desktop application will be retired on June 15, 2022. After that, the IE11 desktop application will no longer be supported.
Solution:
If your organization has legacy sites and apps with IE dependencies, you may need to set up IE mode. So, users can access them through Microsoft Edge.
Azure AD Graph API retirement (June 30, 2022) – MC281145
Microsoft is retiring Azure AD graph API from June 30, 2022. After that, Apps that use Azure AD Graph will no longer receive responses from the Azure AD Graph endpoint.
Solution:
Update existing applications to access the Microsoft Graph endpoint.
Azure AD license management cmdlets retirement (June 30, 2022) – MC281145
Since the Azure AD Graph APIs are being retired, Microsoft is retiring the license assignment operation in the MSOnline and Azure AD PowerShell modules on June 30, 2022.
Solution:
Instead of using MSOnline PowerShell cmdlets, such as Set-MsolUserLicense, New-MsolUser, you can use the Microsoft Graph PowerShell cmdlets Set-MgUserLicense, New-MgUser, etc.
Instead of using Azure AD PowerShell cmdlet Set-AzureADUserLicense, you can use the Microsoft Graph PowerShell cmdlet Set-MgUserLicense.
Classic Exchange admin center (Sept 1, 2022) – MC283874
Beginning Sept 2022, users or Administrators will no longer be able to access the Classic Exchange admin center (EAC).
Solution:
You can access the new Exchange admin center. The new EAC offers a faster, more secure, and more intelligent modern admin experience than the classic EAC and is helping admins work more efficiently.
Basic auth deprecation in Exchange Online (Oct 22, 2022) – MC286990
Microsoft will retire Basic Authentication beginning October 2022. After the retirement, legacy protocols like Exchange Web Services (EWS), Exchange Active Sync (EAS), IMAP4, POP3, and Remote PowerShell (RPS) won't be able to connect to Exchange Online using Basic Auth.
Solution:
You can update client applications to support OAuth 2.0,
Use Outlook mobile clients instead of Exchange ActiveSync.
This blog covers several products/features that are used by most people and going to retire in 2022. It's a challenge to stay up-to-date on all the updates Microsoft makes across Office 365. But together, we need to plan for this change to improve security and protect our data.