Microsoft continues to roll out new features and technologies for Microsoft 365 to provide best in class service to its user. As an Office 365 administrator, it is essential to stay informed about new features and technologies, as well as those that are being phased out.
In this blog post, we have compiled a comprehensive list of deprecations and end-of-support announcements as well as information on how to prepare for these changes. It will help you plan for any necessary migrations or updates. Whether you're a seasoned Office 365 admin or just starting out, this list will help you make informed decisions about your organization's technology stack.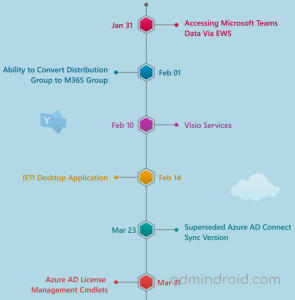 To easily keep track of the Office 365 end-of-support timeline, we have generated a timeline-based cool infographic!
We've also created a printer-friendly version that you can print and keep on your desk for quick reference.

Download Infographic | Printer-friendly
Don't miss out on the latest buzz in Microsoft 365! 🐝
Jan 31: Accessing Microsoft Teams Data via EWS – MC430095 
If your organization is using Exchange Web Services to retrieve MS Teams message data, such as 1:1 chat, meeting chat, etc., it will not work after Jan 31, 2023.
Solution:
Instead of EWS, you can switch to Microsoft Graph Teams Export API. It allows you to export 1:1, group chat, meeting chats, and channel messages from Microsoft Teams.
Feb 01: Ability to Convert Distribution Group to M365 Group-MC455545
Upgrading your organization's distribution lists to Microsoft 365 Groups can improve the features and capabilities of your groups. However, Microsoft has announced plans to deprecate the ability to convert distribution lists to Microsoft 365 Groups on February 1, 2023.
Additionally, the PowerShell cmdlet 'Upgrade-DistributionGroup' will no longer work. It is important for administrators to be aware of these changes and plan accordingly.
Solution:
Microsoft has provided a document with the steps for converting distribution lists to unified groups. However, manually following these steps can be time-consuming.
Feb 10: Visio Services – MC476026
If you currently use Visio Web Access or the Visio Web Part for SharePoint Online, it is important to be aware that these features will no longer be available from February 10, 2023.
Solution:
As an alternative, you can use Visio Web viewing, which is available with most of the Office 365 subscriptions.
Feb 14: IE11 Desktop Application – MC486729
If your organization is currently using Internet Explorer 11 (IE11), it's important to be aware that the out-of-support desktop application is scheduled to be permanently disabled on February 14, 2023. This will be done through a Microsoft Edge update.
Solution:
To prepare for this change, you can consider migrating to a supported browser, such as Microsoft Edge.
If you need to access a site that is only compatible with IE11, you can use the IE mode in Microsoft Edge to load it.
Mar 23: Superseded Azure AD Connect Sync Version- MC333227
Azure AD Connect Sync synchronizes identity data between your on-premises environment and Azure AD. From mid-March, Microsoft will begin retiring past versions (2.0.x) of Azure AD Connect Sync 12 months from the date they were superseded by a newer version.
If you run a retired version of Azure AD Connect, it might unexpectedly stop working.
Solution:
You need to upgrade your Azure Active Directory Connect installation to the latest release.
Mar 31: Azure AD License Management Cmdlets
Microsoft retires Azure AD and MSOnline license assignment APIs and cmdlets, such as Set-MsolUserLicense, Set-AzureADUserLicense from Mar 31, 2023.
Solution:
To minimize disruption, it is recommended that you update existing applications to use the license assignment APIs from the Microsoft Graph endpoint. If you are using PowerShell to assign or remove licenses, you can use the Microsoft Graph PowerShell module. This will ensure that you can continue to use license management cmdlets and access the latest features.
Apr 11: Office 2013 End-of-Support – MC357842
Office 2013 will reach the end of its support period on April 11, 2023, after five years of mainstream support and an additional five years of extended support. After this date, security updates will no longer be provided for Office 2013.
Solution:
Start upgrading to Microsoft 365 Apps, which is designed to receive regular updates, and will help you stay current by getting security updates and latest features.
June 30: Azure AD Graph API
Microsoft has announced that it may deprecate the Azure AD Graph API any time after June 30, 2023, as per its deprecation guidelines.
Solution:
To avoid potential disruptions, it is recommended that users migrate away from Azure AD Graph and applications that are relying on it for production purposes. While Microsoft will continue to provide security-related fixes for Azure AD Graph, it is advisable to prioritize migration to Microsoft Graph.
June 30: Azure AD & MSOnline Modules
The Azure AD, Azure AD Preview, and MS Online PowerShell modules are scheduled to be deprecated on June 30, 2023. However, these modules will continue to function with minimal effort, but it won't receive any security updates. And, some cmdlets may stop working after this date due to the Azure AD Graph API deprecation.
Solution:
To ensure the best experience and access to the latest features, it is recommended that admins migrate to the Microsoft Graph PowerShell SDK as soon as possible.
July 01: Remote PowerShell (RPS) in Exchange Online – MC488586
Microsoft plans to retire the RPS protocol in June 2023, which means that you will no longer be able to use RPS methods (such as New-PSSession, EXO V1 and V2 modules, and –UseRPSSession attribute) to establish a connection to Exchange Online after July 1, 2023.
Solution:
We recommend switching to the Exchange Online V3 (EXO V3) module and using REST cmdlets such as Connect-ExchangeOnline.
Aug 31: Kaizala
Microsoft Kaizala is a communication tool designed for large groups, particularly suitable for organizations with mobile workforces. Microsoft will retire Kaizala on August 31, 2023. After the retirement date, access to and support for Kaizala will be discontinued.
Solution:
Microsoft recommends moving to Microsoft Teams for continued connection, sharing, and collaboration.
Sep 01: Scheduler for Microsoft 365 (Sep 01) – MC424413
On September 1, 2023, Microsoft will retire Scheduler for Microsoft 365, a tool that helps users automate the process of scheduling meetings and delegate appointments. As a result, users will no longer be able to use Cortana to automatically schedule meetings.
Solution:
At this time, Microsoft has not announced any alternative solution, though they may include some of these features in a future offering.
Sep 2023: Client Access Rules (CARs) in Exchange Online
Client Access Rules help admins to allow or block different types of client connections to Exchange Online (for example, restrict PowerShell access for non-admin users). Microsoft will deprecate CARs in Exchange Online by September 2023.
Solution:
As an alternate, Microsoft suggested to use Continuous Access Evaluation (CAE). It continuously evaluates the risk associated with a user's access to resources and applies conditional access policies to allow or block access as necessary.
Oct 10: Office 2013 & 2016 Connection to Microsoft 365
As of October 10, 2023, Office 2016 and Office 2019 will no longer be supported when connecting to Microsoft 365. While these versions may still be able to connect to Microsoft 365, their connections will not be supported and may experience performance or reliability issues in the future.
Solution:
To avoid potential security, and compliance risks, we recommend upgrading to Microsoft 365 E3, which includes Microsoft 365 Apps and all the familiar applications such as Word, Excel, PowerPoint, and Outlook.
Staying informed about the retirement of Office 365 products and features is important for security and efficiency. Several popular products and features are scheduled to retire in 2023. It's important to plan ahead and stay updated to protect your organization from potential security threats and maintain compliance.
Be sure to check back on this list for updates, and share any additional Microsoft 365 deprecations or end-of-support announcements in the comments.