Microsoft 365 usage reports show anonymous ids for users, groups, and sites by default from September 1, 2021. This privacy update helps organizations comply with local privacy laws.
Microsoft Makes Privacy Changes to Microsoft 365 Usage Analytics (MC275344): How Does It Impact Your Organization?
Microsoft reporting indicates that one or more users in your organization use or have access to admin center reports. After this change,
Administrative and report reader roles will no longer be able to view user-identified information in reports.
Microsoft 365 usage reports in Microsoft Graph, Microsoft Teams analytics and reporting in the Teams Admin Center, and the reportRoot: getSharePointSiteUsageDetail API for SharePoint site detail (1.0 and beta) are impacted.
How to Display Identifiable Usernames in Usage Analytics Reports:
The global admin can modify the setting to view usage reports with actual usernames by following the below steps:
In the Microsoft 365 admin center, go to "Settings".
Go to "Org settings" and then select "Reports".
Deselect the "Display concealed user, group, and site names in all reports" option.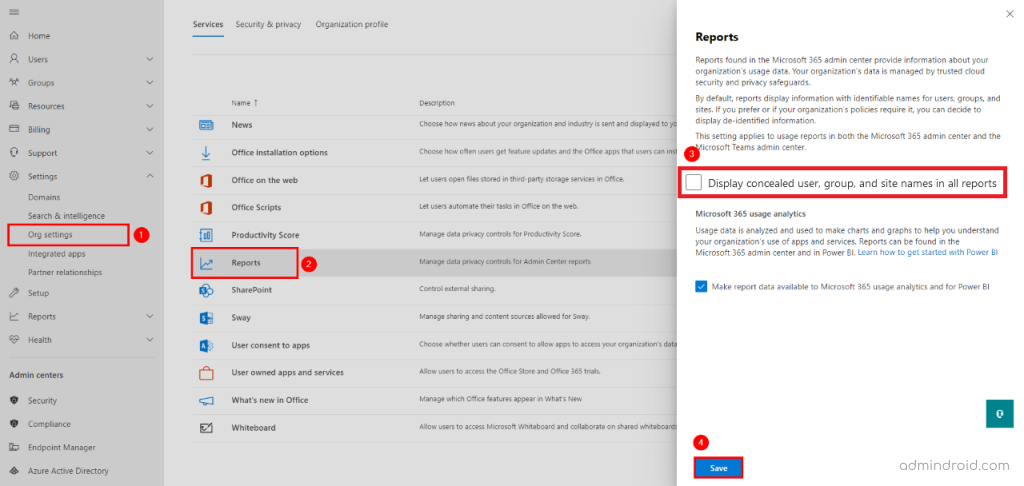 Now you can see the actual user names instead of de-identified names in the Microsoft 365 usage reports.
Microsoft 365 users with a 'Global reader' and 'Usage summary reports reader' roles do not have access to identifiable user information regardless of the settings.
Will AdminDroid Reports get Affected by the Privacy Changes made to Microsoft 365 Usage Analytics?
Since AdminDroid uses Microsoft APIs to retrieve Office 365 report data, few reports out of 1500+ available reports are influenced by this privacy setting. If you want to see real names in those AdminDroid reports, you can easily revert the changes back.
How to View Real Names in AdminDroid Reports?
You can adopt any one of the below methods based on the data in the AdminDroid Office 365 reporting tool.
Method 1: For new AdminDroid users or for tenants in which data is not synced in the AdminDroid Office 365 Reporter after the privacy change:
You can turn off the default settings in Microsoft 365 admin center, as shown earlier. After disabling the setting, sync the data in the AdminDroid. Now, you can see the actual names instead of anonymous ids.
Method 2: If your tenant in the AdminDroid already displays anonymous user names in the usage report:
From AdminDroid version 5000, anonymous data can be replaced with the relevant usernames by modifying settings in the Microsoft 365 admin center and performing Full Sync in the AdminDroid.
You may easily view usage reports with actual usernames by adapting the steps outlined below.
Step 1: Check a usage analytics report in AdminDroid for anonymous data once.

Step 2: Turn off the default settings in Microsoft 365 admin center, as said earlier.
Step 3: Go back to the usage analytics report, which you checked earlier and click on the 'Full Sync' option.

Wait for few minutes until AdminDroid collects and displays the identifiable usernames.

Now you can see actual user names in the Email usage reports. It's important to note that the modifications must be made for each usage analytics report, where you want to convert anonymous data to identifiable data.
Note: Due to data retention enforced in Microsoft, we can only update the data for the last 28 days.
We are here to Help AdminDroid Admins!
For a multi-tenant environment, syncing for each tenant would be difficult. So, we have a better plan for this scenario, and our support team can guide you with the instruction.
When you can't find the Full Sync control in AdminDroid, as it will be shown only under certain scenarios. You can communicate with our support team for an alternate approach.