Microsoft 365 usage reports show anonymous ids for users, groups, and sites by default from September 1, 2021. This privacy update helps organizations comply with local privacy laws.
Microsoft Makes Privacy Changes to Microsoft 365 Usage Analytics (MC275344): How Does It Impact Your Organization?
Microsoft reporting indicates that one or more users in your organization use or have access to admin center reports. After this change,
Administrative and report reader roles will no longer be able to view user-identified information in reports.
Microsoft 365 usage reports in Microsoft Graph, Microsoft Teams analytics and reporting in the Teams Admin Center, and the reportRoot: getSharePointSiteUsageDetail API for SharePoint site detail (1.0 and beta) are impacted.
How to Display Identifiable Usernames in Usage Analytics Reports:
The global admin can modify the setting to view usage reports with actual usernames by following the below steps:
In the Microsoft 365 admin center, go to "Settings".
Go to "Org settings" and then select "Reports".
Deselect the "Display concealed user, group, and site names in all reports" option.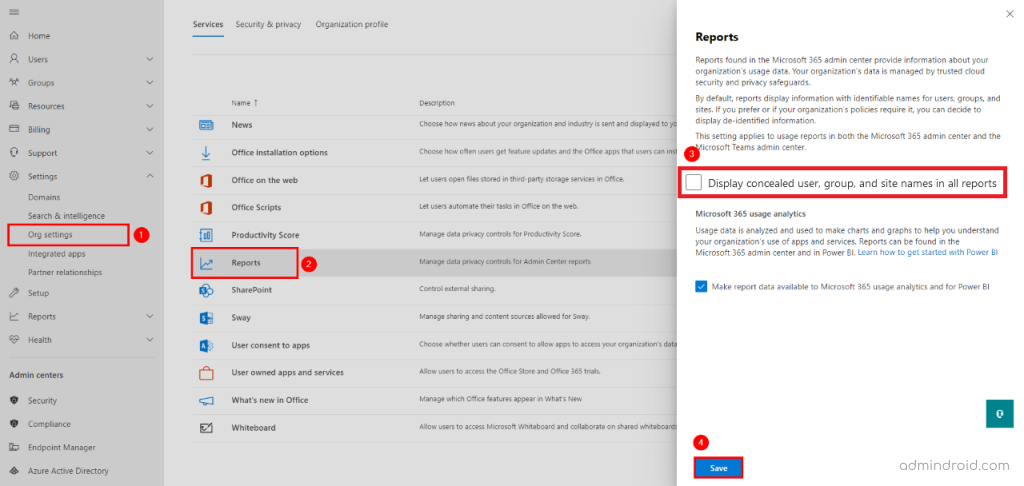 Now you can see the actual user names instead of de-identified names in the Microsoft 365 usage reports.
Microsoft 365 users with a 'Global reader' and 'Usage summary reports reader' roles do not have access to identifiable user information regardless of the settings.
Will AdminDroid Reports get Affected by the Privacy Changes made to Microsoft 365 Usage Analytics?
Since AdminDroid uses Microsoft APIs to retrieve Office 365 report data, few reports out of 1800+ available reports are influenced by this privacy setting. If you want to see real names in those AdminDroid reports, you can easily revert the changes back.
How to View Real Names in AdminDroid Reports?
You can adopt any one of the below methods based on the data in the AdminDroid Office 365 reporting tool.
Method 1: For new AdminDroid users or for tenants in which data is not synced in the AdminDroid Office 365 Reporter after the privacy change:
You can turn off the default settings in Microsoft 365 admin center, as shown earlier. After disabling the setting, sync the data in the AdminDroid. Now, you can see the actual names instead of anonymous ids.
Method 2: If your tenant in AdminDroid already displays anonymous usernames in the usage reports:
From AdminDroid version 5110, the anonymous data can be replaced with the relevant usernames in a single click, right from your AdminDroid report interface itself.
We have outlined the quick steps below to view the usage reports with actual usernames.
Step 1: Check a usage analytics report in AdminDroid for anonymous data.
Step 2: Click on the 'Show me Identifiable Names' button. That's it!

This will directly turn off the 'Display concealed user, group, and site names in all reports' option in your admin center and automatically initiate a full sync in AdminDroid to overwrite the existing anonymous usage data with fresh values.
Wait for a few minutes until AdminDroid collects and displays the identifiable usernames.
After the sync has been completed, you can see the actual usernames in all your usage reports as shown below.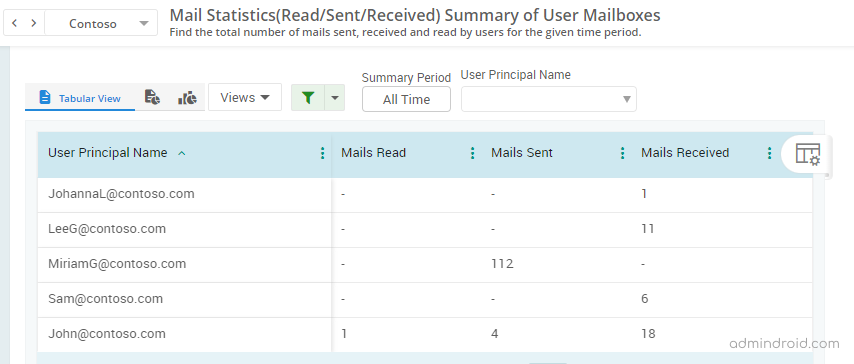 Note: Due to data retention enforced in Microsoft, we can only update the data for the last 28 days.
We are here to Help AdminDroid Admins!
If you have disabled the setting directly in your Microsoft 365 admin center, don't worry. AdminDroid checks for setting changes during the periodic data sync, and automatically performs a full sync to update your usage reports with fresh values.