The ignite session 'Microsoft Teams by Jared Spataro' came with a bundle of new features and surprises. Microsoft Teams is continuing to be the fastest-growing business app in Microsoft history.
Microsoft Teams Adoption by Numbers:
13 million daily active users.
19 million weekly active users.
53 Languages are supported.
90% Fortune 100 Companies use Teams.
Many new feature announcements are unveiled in Ignite-19. We have classified the features by how it will be useful for end-users and administrators.
New Features for End Users
Private Channels
Multiple Window for Chats
Tasks app – with the unified view
Yammer app for Teams
Outlook Integration
Custom Background and Live Caption in Meetings
Polls and Surveys in Channels
Pin Channel/App
Microsoft Whiteboard
Automated Workflow
… and more
New Features for Administrators
Advanced Threat Protection
Audit Deleted/Edited Messages
Information Barrier Policy
Granular Retention Policy
Easy Meeting Room Deployment
Teams Room Management
Manage Private Channels
Certified App Catalog
Improvements for Firstline Workers
… and more
New Features for End-Users
Private Channels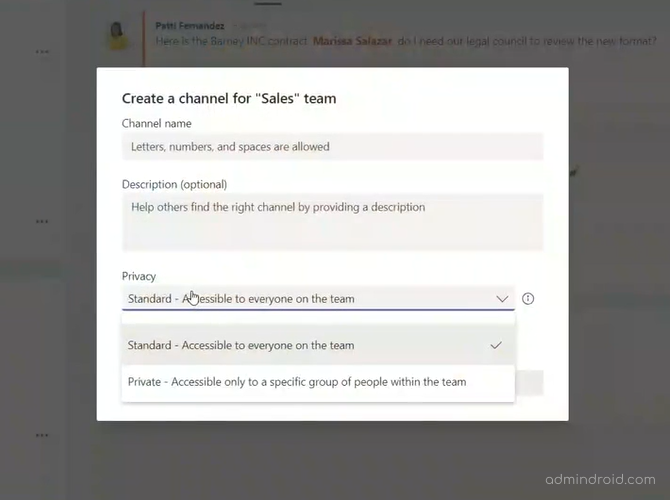 Multiple Chats Windows
You can access multiple chats window at the same time in Teams.

You shall quickly pop out your meeting window if you want to access the calendar or share any data while you were in meeting.
Tasks App – New Unified View
Task app provides a single unified view of the tasks created in various Groups, Teams, and Planner.
You shall see all the tasks assigned to you from one place irrespective of where the task is created.
To see the task progress, you shall switch between the various views such as list, boards, charts, and schedule.
Yammer App for Teams
The Yammer app lets you access Yammer Communities, Conversations, and live events within Teams.
It helps users to stay up to date with the organization's Conversations and their Communities.
Outlook Integration
From the outlook, you shall share any e-mails and attachments to Teams just by clicking "Share to Teams". This helps to have a contextual conversation on the email on a relevant Channel.
In contrast, you can also share your Teams' message in outlook.
Meetings Enhancements
Custom Backgrounds: Blurring the background is the old news now. Now you shall add a custom background in your meeting video.
Live Caption: If you face any difficulty in language, you can enable Live Captions now. It's expected to start rolling out as preview in US English later this year.
Polls and Surveys*
You shall include Polls and Surveys in the Channels conversations.
Pinned Channels/Apps*
Pin any App or Channel to access it easily.
Microsoft Whiteboard*
Microsoft Whiteboard allows collaborating with meeting participants just like they are in same room.
Automated Workflow*
It allows users to create an automated workflow within Teams. They can create a trigger for specific actions, notifications if the user types specific keywords and more.
Power BI Interactive Cards*
This helps users to easily find and can-do actions on their data.
*These are the features covered in the tech community blog but not covered in the ignite session.
New Features for Administrators
Enhancements in Security and Compliance
Advanced Threat Protection:
If you received any malicious links in Teams, it would verify and block the link when you open.
Data Loss Prevention:
Apply a DLP policy in Teams to prevent sensitive information such as Credit Cards is being shared or leaked.
Audit Deleted/Edited Messages:
In audit log search, you can find messages which are either deleted or edited.
Information Barriers:
You can restrict a set of user's communications with other users. It will restrict chatting and accessing the shared files as per the applied policy.
Granular Retention Policy:
You shall create a retention policy as low as one day in the Teams admin center.
Enhancements in Teams Meetings
Easy Meeting Room Deployment:
You will be able to Transform all your screens for Meetings with the "Yealink" and "Poly" devices, which is handy and easy to carry anywhere.
Cloud Video Interop:
Microsoft is going to support Cisco Webex room devices and SIP Video Conferencing devices for Teams Meetings by expanding their "Cloud Video Interop" partnerships.
Direct Guest Join:
Microsoft is working with Cisco and Zoom to provide web-based interoperability services to the web client. This amazing feature lets the guest user join the Meetings directly.
Teams Rooms:
Now all the meeting rooms can be managed on one screen. You can view device information, download the device logs, remote restarts and modify device settings right from Teams admin center.
Managed Meeting Rooms:
Microsoft is going to offer meeting rooms management as service. This feature includes room monitoring, incident management, advanced insights, and access to the recommended list of partners
Enhancements in Teams Management
Manage Private Channels:
You shall disable private channel creations if required. Also, you shall discover all the private channels.
PowerShell Updates:
The update will let you do more works with less code. For instance, a single PowerShell command will let you do a bulk update to the security groups.
Certified App Catalog:
You can monitor all the apps which are active in the organization in an App Catalog in Teams Admin Center. Also, you shall view the security information of the apps in the "Publisher attestation" available in the Catalog.
Advisor for Teams :
It offers IT Admins a customized way to deploy teams. It provides recommended plans and a collaboration space for the deployment team to streamline the roll out of all the Teams workloads.
Improvements for Firstline Workers
Delegated User Management:
This feature enables managers to manage user credentials and perform a password reset.
SMS Sign-In:
To make the First Line Workers accessing Teams by their Mobile Number using SMS Passcode.
Global Sign-Out:
Workers may use many apps and it is difficult to Sign Out from all the apps. This option makes users to Sign Out from all the apps.
Off-Shift Access:
This feature enables users to have a customized notification to access Teams when they access after their working hours.