Organizations that use SharePoint Online needs reporting from time to time. While for bigger organizations, the need is even more frequent to analyze the trends and track the progress of growth.
You can get a summary of SharePoint Online reports from Office 365 admin centers. For more detailed reporting, you would probably need PowerShell. But if you are not an expert in PowerShell cmdlets or you are looking for simple GUI based reporting with a lot of details, you might want to look at other Office 365 solution providers.
Don't know where to start? Voila! you have landed on the right page.
Let's have a look at the "AdminDroid Office 365 reporting tool" which is specially designed for reporting and auditing needs. AdminDroid is GUI based console, that runs as a web service which connects Office 365 tenant to pull various kinds of SharePoint Online reports for you.
With AdminDroid,
It's a piece of cake to investigate user interactions with SharePoint Online documents and answer all the audit-related questions.
You can generate custom SharePoint Online reports by using several filters/views and download them in CSV, HTML, XLS, XLSX, PDF, and RAW formats.
You can email or schedule reports with a plethora of additional details to be sent instantly or on a regular basis.
AdminDroid Microsoft 365 Reporter supports complete modern authentication for connecting SharePoint Online and other Office 365 services.
Inbuilt dashboards are available to track the progress of growth, identify trends or any irregularities that may need further investigation and for competitive analysis.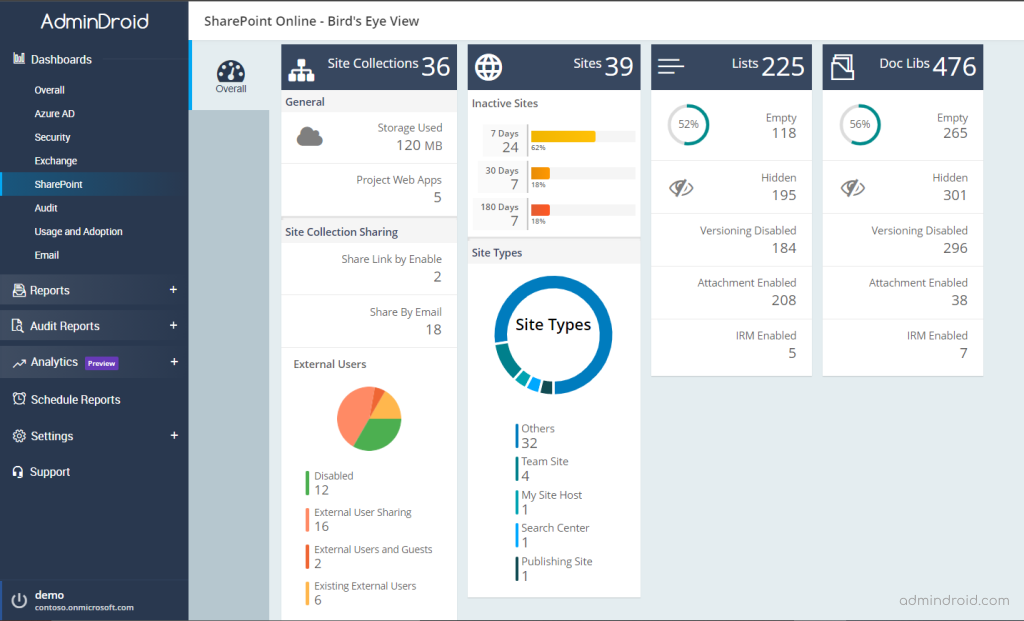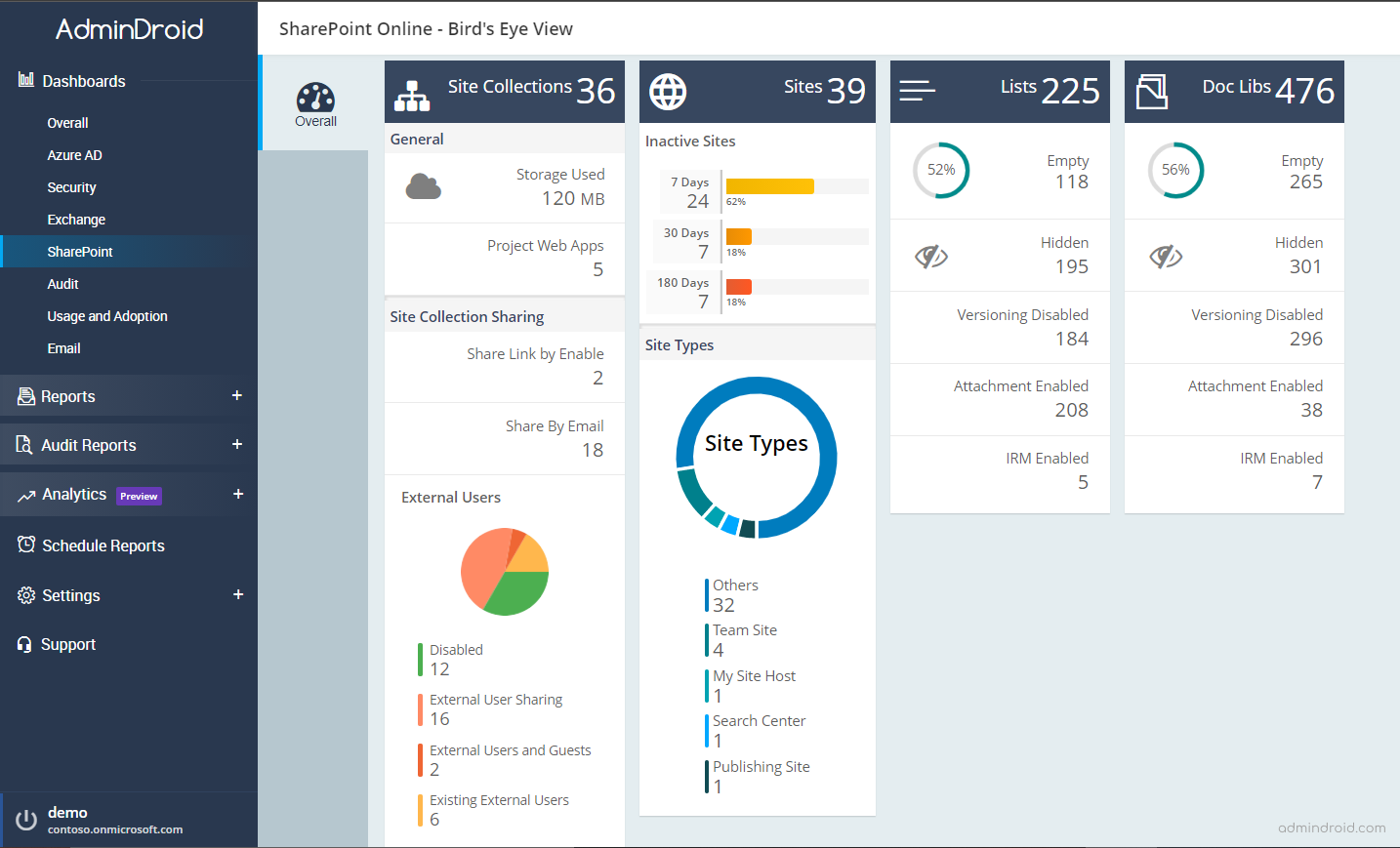 Wait a minute! This is not the end of the story. AdminDroid is capable of far more than you may believe.
You can manage multiple tenants in a single browser tab.
You can add users to AdminDroid and delegate access according to your administration requirements to one or more tenants.
As it is a user-friendly tool, the admin can do a complex task with few mouse clicks.
The inbuilt auto-updating mechanism keeps the product up-to-date with security standards and the latest features.
Audit dashboards are available to guide you in visualizing all audit-related operations and breaking down difficult data.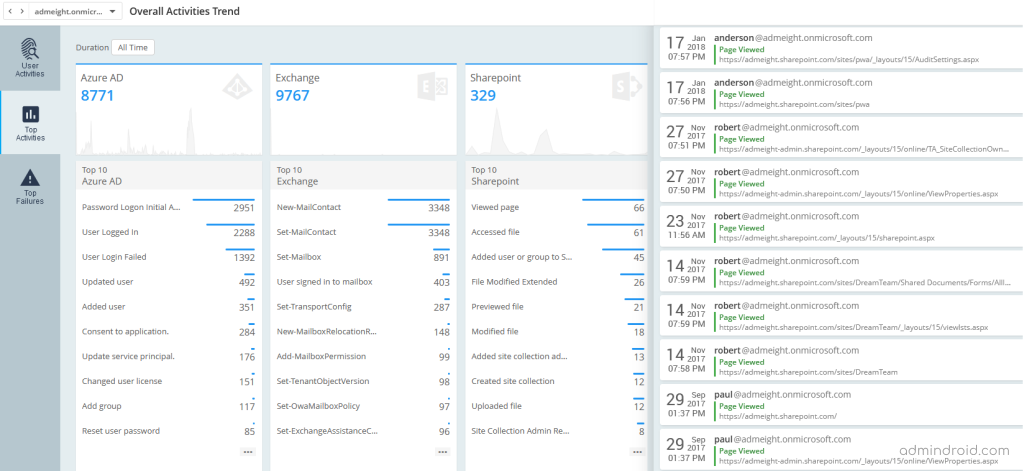 Being the best SharePoint Online reporting and auditing tool, AdminDroid generates high-quality reports and insights for your SharePoint Online environment.
Without further ado, take a look at the most significant SharePoint Online reports and audit reports from AdminDroid that will greatly assist you in improving your organization.
Metrics on File Activities Using AdminDroid Office 365 Reporter
Employees execute many operations on the files and folders in the document library. They can access files, rename, move, copy, restore, and even delete them. So, getting a count of the total number of files and active files is not sufficient for an admin to check all the file permissions and file-related actions.
The File Activities report in AdminDroid Office 365 reporter gives you all the data about the file usage with its date, time, file extension, file type, and email address of the person who performs the activity. Different reports on file activities are as follows,
Accessed files
Modified files
Uploaded files
Downloaded files
Deleted files, etc.

The above picture shows you all the activities regarding files on SharePoint sites.
Finding Actions on Pages in SharePoint Online – Page Activities Report
The administrators should track all the page activities and permissions to identify the usage of a particular page. OurPage Activities report lists all the pages that are viewed, moved, deleted, and restored to gain a better understanding of SharePoint Online pages.
The below image shows viewed pages, viewers, viewed time and date of SharePoint pages, etc. with advanced filtering options.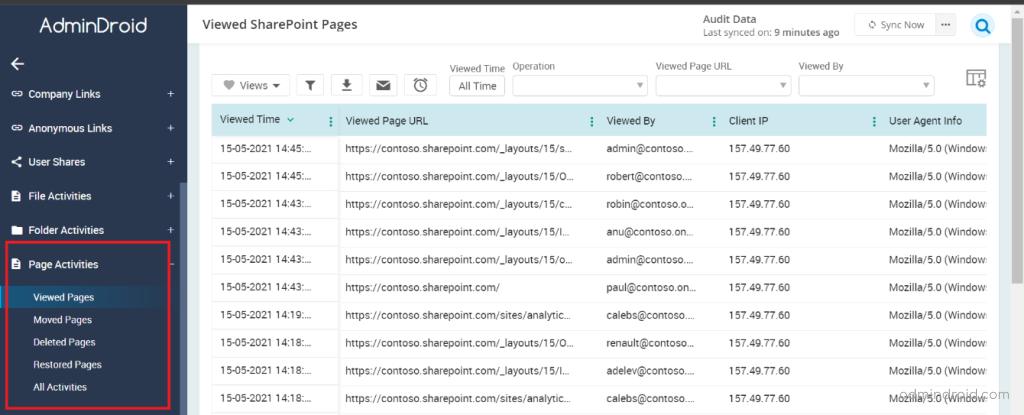 Analytics of Shared and Unshared Items on SharePoint Online
Sharing an item allows a department or a team to collaborate with their colleagues and external users. Shared Items boost every function in a company.
In order to protect confidential information, an administrator should audit the sharing activities to determine whether the item was shared with the intended recipient.
Our SharePoint Online Sharing report helps you to obtain content that was shared and unshared by the user along with the date and time. In addition to that, you can get the person's email address to whom the content was shared, and unshared, the sender's email address, site URL, etc.
The following picture depicts the shared items that a user shared in SharePoint Online.

Look at the Items That People Share Internally – Company Links Report
Employees can share their files, lists and documents on a document library by creating company links. Anyone in your organization can access the resources using company links. An administrator should concentrate on all the company links created by the employees for sharing internally.
Our Company Links report lists all the company links that were created, removed, and accessed with their date, time, file type, URL, and the person who shared a link.

An administrator can use these reports to determine the usage of an item shared via company links.
Report of Unauthenticated Access – Anonymous Links Report
Anonymous link is the shareable link provided for both internal and external users. Anyone with the shared link can view and edit (If permitted) the relevant files and can forward the link openly.
AdminDroid's Anonymous Link report lists all the anonymous links created, removed, updated, and accessed that is shown in the below picture.

Be aware of choosing the "Anyone with the link" option- you may fail to protect sensitive information. You can stop sharing the anonymous link anytime. When people outside the organization attempt to open a removed link, they will get an error message.
Inspecting External Sharing Configuration of SharePoint Online Sites
SharePoint Online has the advantage of allowing the admin to enable external sharing setting per-site basis. Users can share the whole site or site content with the people outside of the organization according to the permission allotted for the site.
AdminDroid's External Sharing Configuration report lists all the SharePoint Online sites with their enabled and disabled external sharing capability.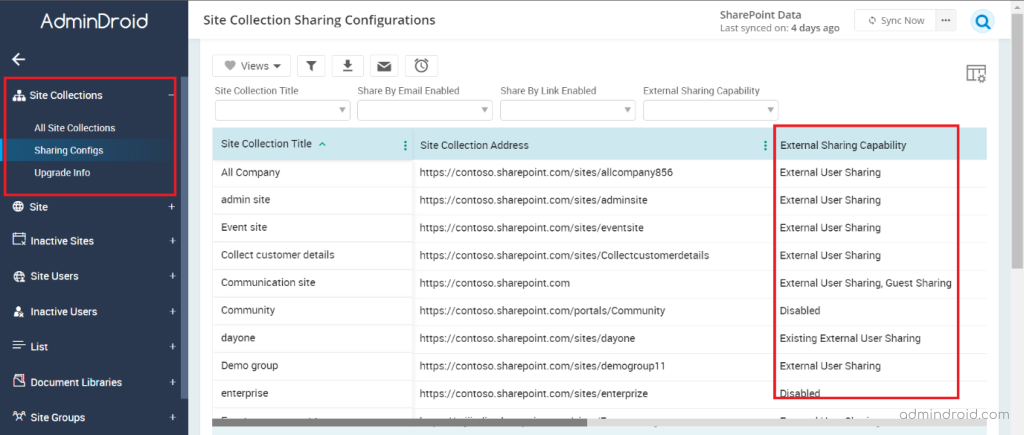 View Approval and Rejection of Access Request- Access Request Report
Users of a site should request access to the files, documents, lists, and other items if they don't have permission to access those items. They can send a request email to the site owner's mailbox to access the content. Site owners can approve or deny the request sent to them.
Access Requests report from AdminDroid lists all the access requests that are created, approved, and denied. You can see the access request report in the following image.

Interpreting Inactive Users by Their Last Activities
Employee efficiency determines the pace and growth of an organization. Your company's development may decrease unless you take care of inactive users. Office 365 reports have very little information about inactive users of SharePoint Online sites. But, with the help of the Inactive Users report in AdminDroid, you can list all the inactive users by their last activities like last file access, the last file synced, external shares, internal shares, and page access in SharePoint Online.
The following picture shows the inactive users report by their last activities.

This report greatly helps the SharePoint admin to disable or remove the inactive users from SharePoint Online.
Managing Unused Sites Using Inactive Sites Report
Inactive users are the root cause of unused SharePoint sites. This Inactive Sites report helps you to find out inactive sites that indicate site name, site address, site inactive days, Last item user modified date, etc.
Inactive sites are determined by the last change time, last file activity, and last page view that is shown in the following table.

By referring to the Inactive sites report of AdminDroid, you can remove the unused SharePoint Online sites.
Make Use of Daily Usage Report on Files and Users
A Daily Summary report is a useful method for managing files and users for the company's well-being. It helps in tracking the files and employees' activities towards company needs.
Our Daily Summary report lists the number of active files and users based on the activity.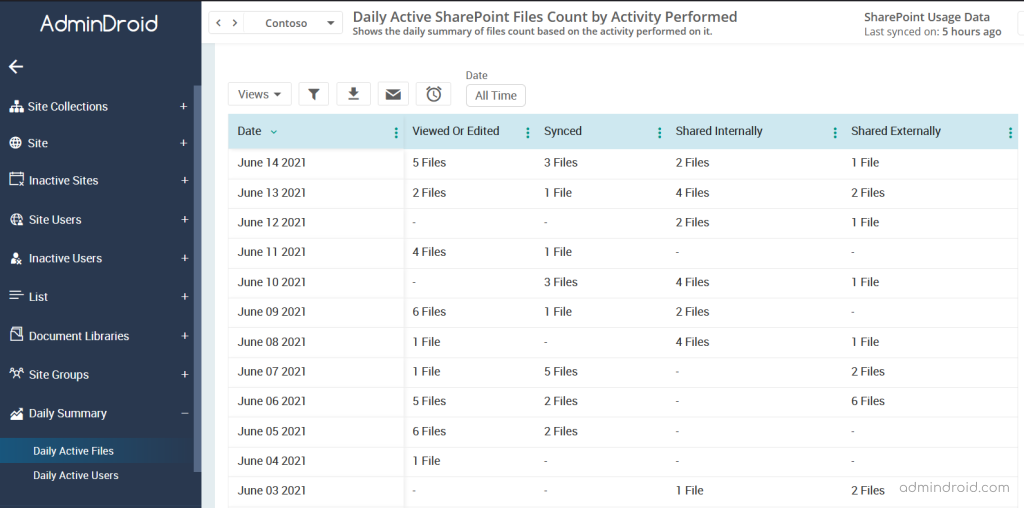 Thus, AdminDroid acts as a perfect SharePoint Online reporting and auditing tool. We give you consolidated and up-to-date information about SharePoint sites. Data in our report are well-organized and efficient that help you to improve the organization's success.
As we all know, Experiencing will give us more knowledge and accurate information than reading. So, download AdminDroid Microsoft 365 Reporting tool to see how it enhances your organization's development.