Microsoft 365 is unleashing a wave of game-changing releases, including the improved and new Microsoft Teams. It is now equipped with location awareness, making it easier than ever for you and your colleagues to collaborate effectively. As companies embrace hybrid or remote work setups, it becomes increasingly important for us to make conscious efforts in building strong business connections. To iron out these glitches, Microsoft brought in the Work Hours and Location in Outlook (WHL) and integrated it with Microsoft Teams. With this latest update (MC553273) in place, staying informed about each other's availability and seamlessly planning collaborative sessions is a breeze!
Excited to explore this amazing feature? Let's dive right in and get started!

Work Hours and Location in Outlook
The new working hours and location (WHL) feature allow users to specify whether they'll be working remotely or in the office. They can also set flexible working hours for each day or have multiple work slots in a day.
NOTE: The rollout of this feature for Outlook on the web commenced on May 9, 2023. For Teams desktop, web, and mobile, the rollout is expected to start in June 2023. 

How to Set Work Hours and Location in Outlook?
To set up working hours and location in Outlook on the web, follow the steps given below.
Step 1: Open Microsoft Outlook for Web.
Step 2: Reach out to the gear icon ⚙️ in the top-right corner of the page.
Step 3: Select 'View all Outlook settings' -> Calendar.
Step 4: Choose 'Work hours and location'.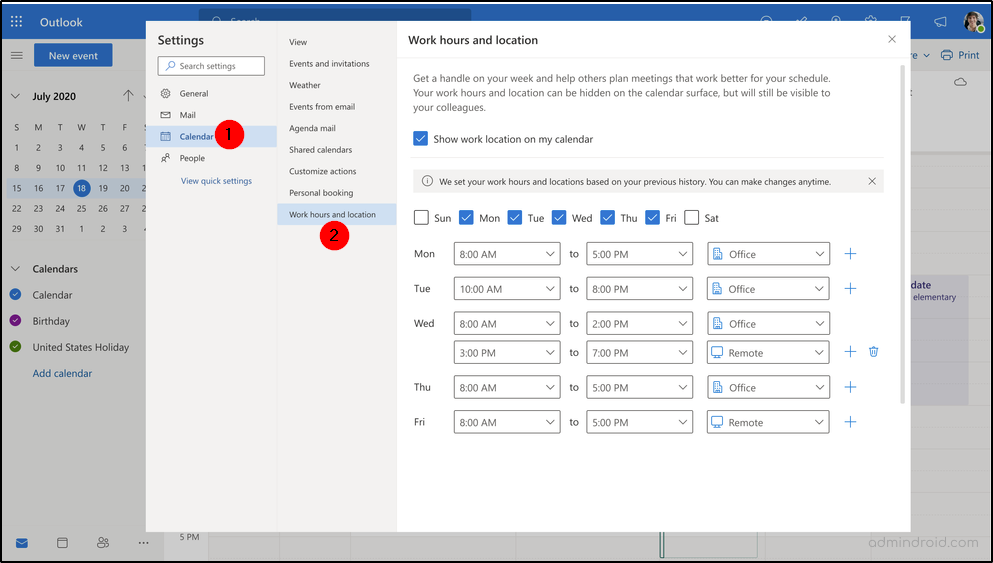 Check the days of the week you need to set working hours & location and schedule timings based on your availability. You can also decide whether to show your work location on your calendar using the 'Show work location on my calendar' option. It is worth noting that even if you hide them from your calendar, they will still be visible to your colleagues. This enables others to schedule meetings with you based on your availability.
After setting up work hours and location in Outlook Web, their location will be visible while using the scheduling assistant. By utilizing the WHL status in the scheduling assistant, individuals can effortlessly find out whether their colleagues are working remotely or from the office, thereby facilitating the scheduling of meetings according to their availability.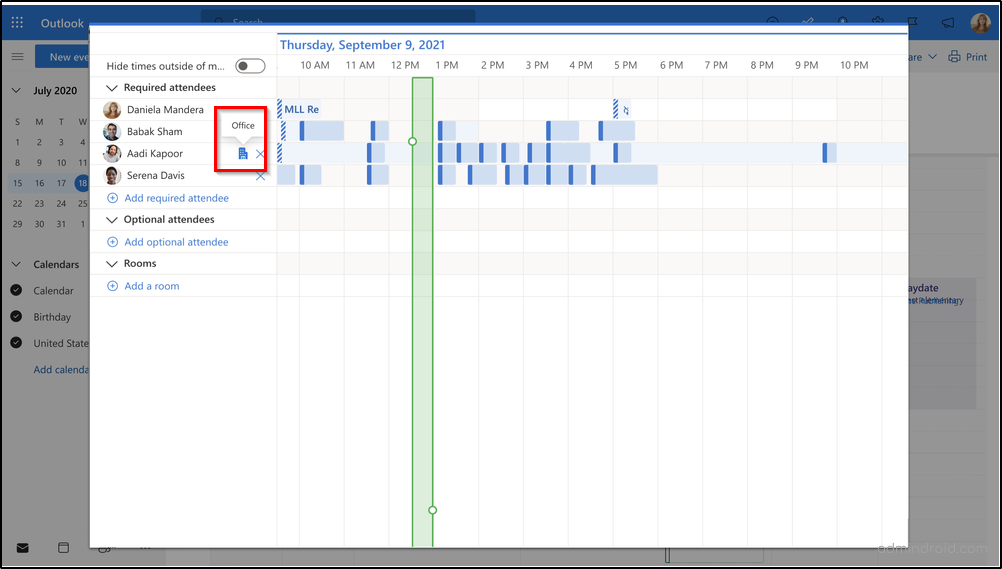 In Microsoft Teams, their location will be shown in the Teams profile card as shown below. Having the location displayed in Teams profile card allows team members to see where their colleagues are located and coordinate work effectively.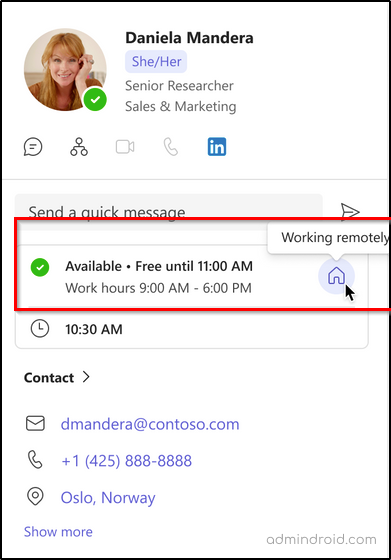 IMPORTANT: When you create a meeting event in Outlook on the web, the suggested times for the meeting will consider the work hours and location (WHL) of the attendees. This ensures that the suggested times align with the availability of the participants, considering their specified WHL settings.

How to Change Work Hours and Location from the Calendar in Outlook?
To change the WHL settings in Outlook, select the icon that represents the work location and change it to your preference. You can also clear the location by deselecting it.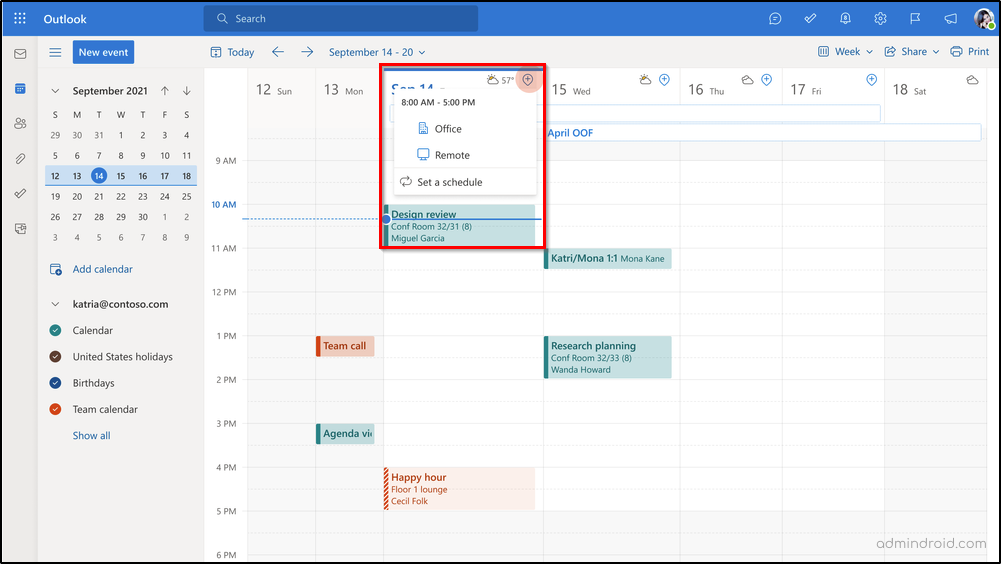 How to Change Work Location in Microsoft Teams?
Switching work locations in Microsoft Teams is easy as low-hanging fruit! You just need to select and update it from the location drop-down in your Teams profile card.
For example, if it's a tiring day in the Office, and you wish to complete the work you started by working comfortably at home, you can just update the working location status to 'Remote' and inform the world that you are working from home for the rest of the day.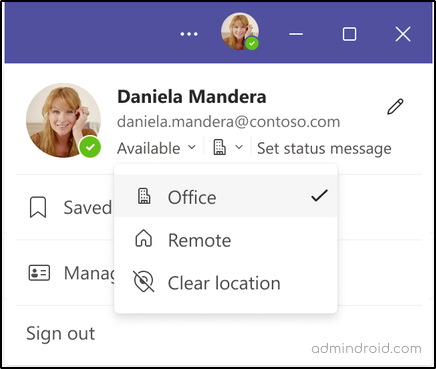 Work Hours and Location Not Showing in Outlook
For some users, this feature may not be currently available to set up. This is because Microsoft has scheduled the rollout of this amazing feature at different timelines for users included under targeted release and standard release.
For targeted release: This feature will begin rolling out in mid-May 2023 and expect to complete the rollout by late May 2023.
For standard release: This feature will begin rolling out in late May 2023 and expect to complete the rollout by late August. 


Other Exciting Updates for Microsoft Teams and Outlook
Microsoft has also equipped Teams and Outlook with a good deal of updates that supercharges collaboration such as,
Pronouns on Microsoft 365 Profile Card: Microsoft now allows users to add their preferred pronouns to their profile card, fostering respectful communication.
New Outlook for Windows and Mac: Microsoft Outlook got a redesigned interface, making it easier to manage emails, calendar events, and contacts efficiently.
Microsoft Places: Microsoft Places is a workplace app that helps businesses manage their hybrid workspaces by tracking employee attendance and location, booking meeting rooms and other workspaces, collecting feedback from employees about their workspace experience, and more. The introduction of the new working hours and location feature in Outlook undoubtedly sets a robust foundation for the evolution of Microsoft Places.
Microsoft Loop Updates: Microsoft Loop received updates including real-time co-authoring, support on mobile, enhanced task management, etc.
Collaborative Stage View in Microsoft Teams: Collaborative stage view in MS Teams allows users to interact with the app content and chat with team members at the same time, thereby enabling users to easily share links and collaborate on content directly within Teams.
We believe this blog post guided you through the process of setting up your working hours and location, enabling efficient collaboration and facilitating a better understanding of each other's availability. If you have any questions or need further assistance, please don't hesitate to reach out to us in the comments section.