SharePoint Online (SPO) is a powerful collaboration platform that allows organizations to create, store, and share content in a secure and organized manner. One of the key features of SharePoint Online is site sharing, which allows users to share sites, documents, and folders with external users. Earlier, SPO relied on the legacy SharePoint Invitation Manager for external site sharing. However, with the integration of Azure AD B2B, this process has been improved, making it easier and more secure with the Azure B2B Invitation Manager. This change is expected to roll out in late March and will be completely rolled out by late July. 
What is Azure B2B Invitation Manager?
Azure B2B Invitation Manager in Azure AD allows organizations to securely share resources with external users. It is a powerful feature that streamlines the process of inviting external users to access resources in an organization's Azure AD, including SharePoint Online sites.
What is the Difference Between SharePoint Invitation Manager and Azure B2B Invitation Manager?
The key difference is that the legacy SharePoint invitation manager uses Microsoft accounts for authentication, and the Azure B2B Invitation Manager uses Azure AD accounts for authentication. It creates guest accounts in your organization's Azure AD for external users who access the resources.
Users without a Microsoft account can access the resource using the one-time passcode functionality and are not required to create an account to authenticate. When an Azure B2B invitation for a site is shared with people outside the organization, each user will be given an account in the directory and are subjected to multi-factor authentication.
Note: The proposed change will only affect the sharing of sites to external users, while sharing of files and folders will remain unchanged and follow the same experience.
How Does Azure B2B Invitation Manager Enhances SPO Site Sharing?
Azure B2B Invitation Manager improves SPO site sharing in several ways:
Simplified Invitation Process
With Azure B2B Invitation Manager, the process of inviting external users to access SPO sites is streamlined and simplified.
Site owners can now easily invite external users using their email addresses directly from the SharePoint site, without having to create guest links or send separate emails.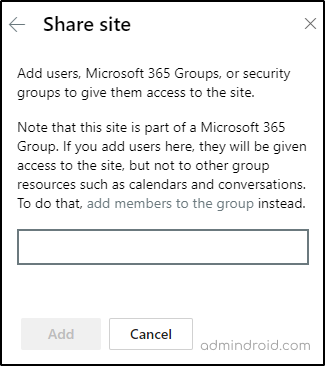 Centralized Invitation Management
Azure B2B Invitation Manager provides a centralized location for managing all external user invitations. These can be managed from the 'External collaboration settings' section within the Azure portal.
This centralization helps organizations maintain better control over external user access and ensures that only authorized users have access to SharePoint content.
Site owners can manage all the invitation settings such as guest invite restrictions, guest user access restrictions, making it easy to track and manage external user access to the site.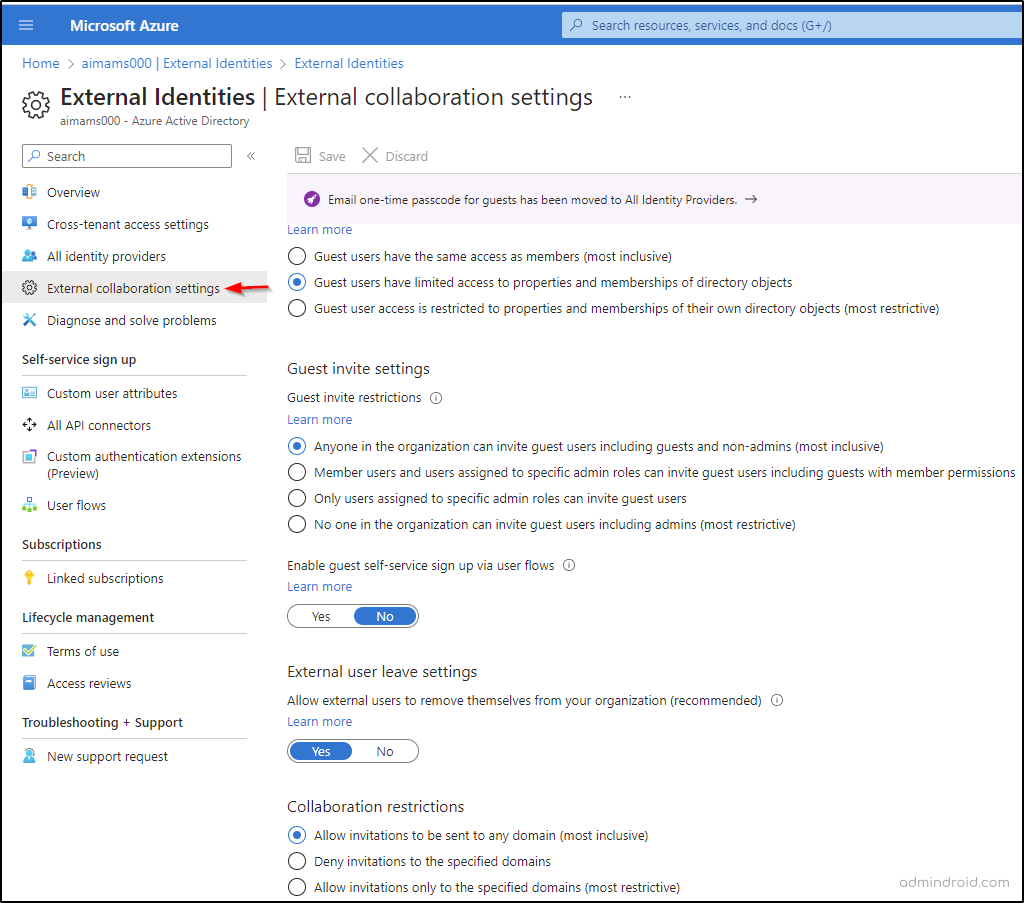 Improved Security
Security of SPO site sharing is elevated using Azure B2B Invitation Manager with advanced security features such as CA policies for external users, guest user consent, expiration, revocation etc.,
For example, site owners can set expiration dates for invitations, revoke invitations, review, and audit external user access.
This helps organizations maintain tighter control over external user access and ensures that access is granted only to those users who need it, for the specified duration.
Enhanced Collaboration
SPO site sharing using Azure B2B Invitation Manager promotes facilitated collaboration between internal and external users, promoting productivity and teamwork.
Once external users accept the invitation, they can access the SPO site and collaborate with internal users just like any other user.
Organizations can leverage this feature to securely share a SharePoint Online site with external users, enabling seamless collaboration and boosting productivity. With Azure B2B Invitation Manager, SharePoint Online becomes an even more powerful collaboration platform, empowering organizations to collaborate effectively and securely with both internal and external users.
Thank you for reading, and we hope this blog will help you in expanding your knowledge of Azure B2B Invitation Manager! Feel free to reach us in the comments and share your collaboration experience.