One of the lesser known but equally useful feature is the Microsoft Loop components!
What is a loop component?
Loop components provide organizations with a centralized platform for managing and sharing content, automating workflows, and improving communication and collaboration in one place."
Loop components is a powerful framework offered by Microsoft that brings together the best of team collaboration and productivity tools with Teams, Outlook, Word, and OneNote at its core.
Microsoft 365 Loop components empower businesses of all sizes to increase productivity and efficiency by enabling smarter work!
It doesn't matter if you want to automate tasks, create custom components, or want to improve team communication, Microsoft Loop Components has got you covered. So why wait? Start exploring the possibilities today and discover how Loop can transform the way you work!
Loop Components in Microsoft Teams
Loop component is the first feature of the Microsoft Loop app to become available in Teams.
The Loop Components in Teams chat provides a fresh approach to idea creation and collaborative decision-making. It is true that it seems surprisingly simple in appearance. But you can streamline your team's workflow with the flexibility and power of Loop components in Teams! Loop components can be edited inline by everyone in the chat room and changes are reflected immediately. It can be accessed on Windows, Mac, Linux, iOS, and Android, as well as on the web. At present, Loop Components created in Teams are supported by a .fluid file (soon to be .loop) while getting stored automatically in OneDrive.
Here is how Loop components in Teams take team collaboration to the next level.
You can send editable components such as tables, task lists, paragraphs, and voting tables for team members to collaborate and make decisions together.
Efficiently get tasks done faster with crowd-sourcing and collective notetaking.
Share the Loop component in another chat by copying the link, pasting it, and inviting collaboration.
Recipients from different chats can edit the component for real-time updates thereby ensuring a seamless sharing experience.
Since the loop component created in Teams gets stored in OneDrive, users can create, edit, and manage in a larger visual space (Office.com) and can add as many components as they want. To open the Loop component in Office.com, copy its link and open it in the web browser.
How to Use Loop Components in Microsoft Teams Chat?
Follow these steps and take advantage of Microsoft Loop Components in Teams chat for enhanced collaboration and productivity.
Go to the messaging area in Teams and start a blank message.
Click on the Loop icon in the message editor.
Choose the type of Loop Component you want to create (Currently, loop components in Teams chat include bulleted lists, checklists, numbered lists, paragraphs, tables, voting tables, and task lists.)
Enter content that will guide your collaboration.
Click on the Send button and now everyone in the chat room will now be able to edit the message.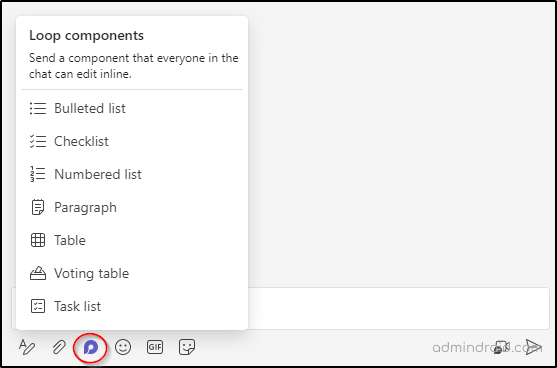 How to Edit a Loop Component in Teams Chat?
To edit a Teams component, just tap on it.
While editing, you can type "/" to insert elements like @mentions, dates, or even components (Lists, Paragraph, Table, Voting table, etc.).
If you want to add a comment instead of making changes, type "//".
While others are editing, you can see live text changes and editors leave their changes with different colored cursors.
Avatars of people who have viewed the component at least once can be seen at the top.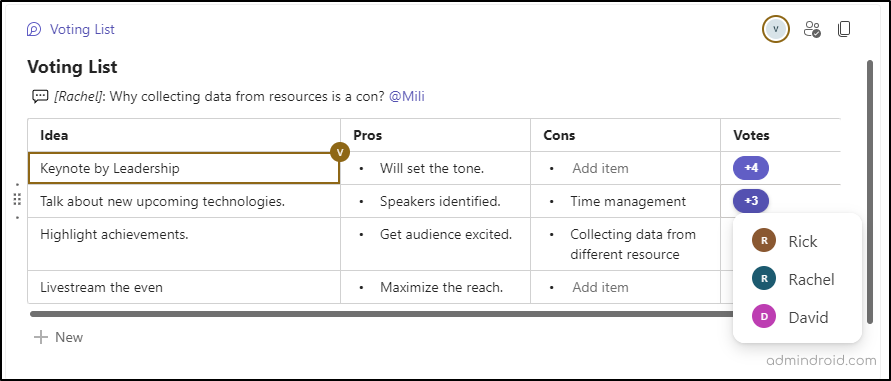 Loop Components in Other Microsoft Services
In Ignite, Microsoft has also stated that Loop components will be made available in Word for the web, Whiteboard, and Outlook for Windows to help users collaborate across space and time!
Loop Components in Word – Organizations can benefit from real–time updates and synced content, no matter where the team accesses the component. Loop component in Word for the web is available only if the organization allows the creation of links that can be edited or viewed by anyone in the organization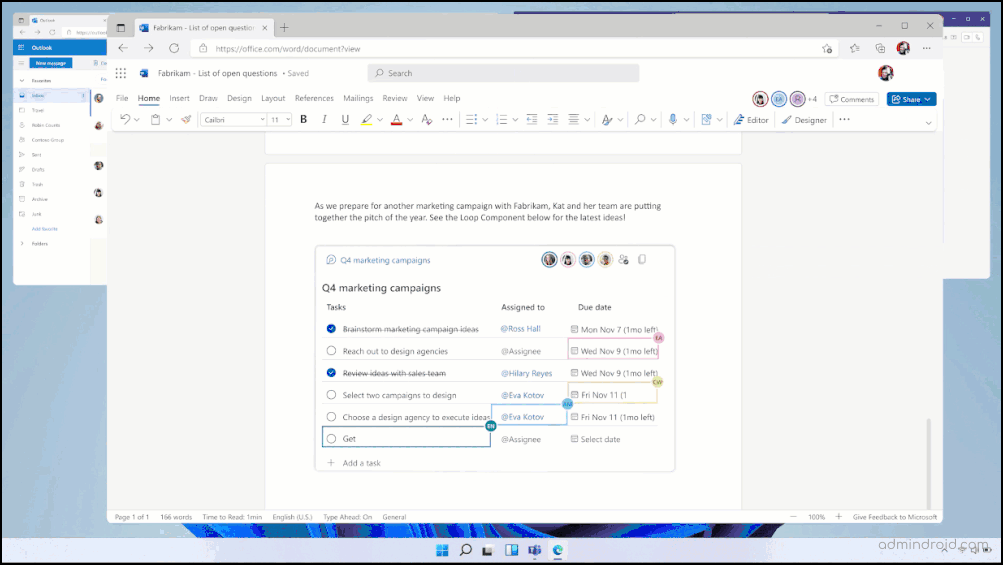 Loop Components in Whiteboard – As we all know Whiteboard is a platform where project teams kick off creative ideas. It is also possible that you can copy the loop component from Teams, Outlook, or Word for the web and paste it into Whiteboard. This ability to copy and paste Loop components in the Whiteboard (web, Teams, and desktop) will be available to everyone by the end of the year!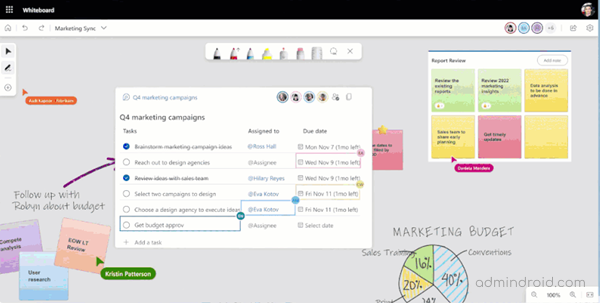 Loop Components in Outlook – Loop components are currently available in Targeted Release for Outlook on the web.
To access loop components in Outlook for the web you can go to Message > Loop Components. In a Calendar item, go to Insert > Loop Components.
If you want to continue the collaboration in another app, you can copy and paste the component into Teams chat, Outlook, or Whiteboard. The ability to insert and share components in emails and calendar items helps to streamline workflows and increase efficiency.
Loop Components in Outlook Mobile – Microsoft will soon begin rolling out a new viewing experience to Outlook Mobile on iOS and Android. This new update will enable users who receive emails with Loop components to view the contents of the component in a preview within the Outlook Mobile app, allowing them to make edits quickly and easily. Rollout is expected to begin in early May and to be completed in early July.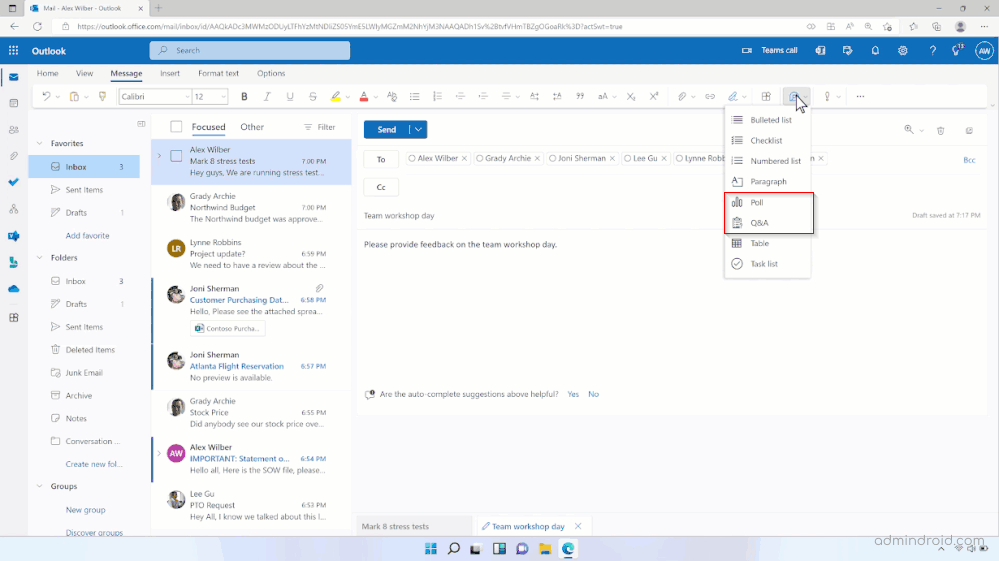 Microsoft Loop App
Microsoft Loop is a new app built based on three key principles which include think, plan, and create together. The app uses Microsoft's new Fluid Framework technology to allow multiple people to work on the same content simultaneously. With a versatile canvas and intuitive components that move across Microsoft 365 apps, your team will be able to work smarter with Microsoft Loop. Currently Microsoft Loop app is in public preview!
Microsoft Loop allows customers to collaborate collaboratively on projects such as planning events, developing products, brainstorming sales campaigns, and more. There are workspaces, pages, and components in Loop (which sync across all Microsoft 365 apps).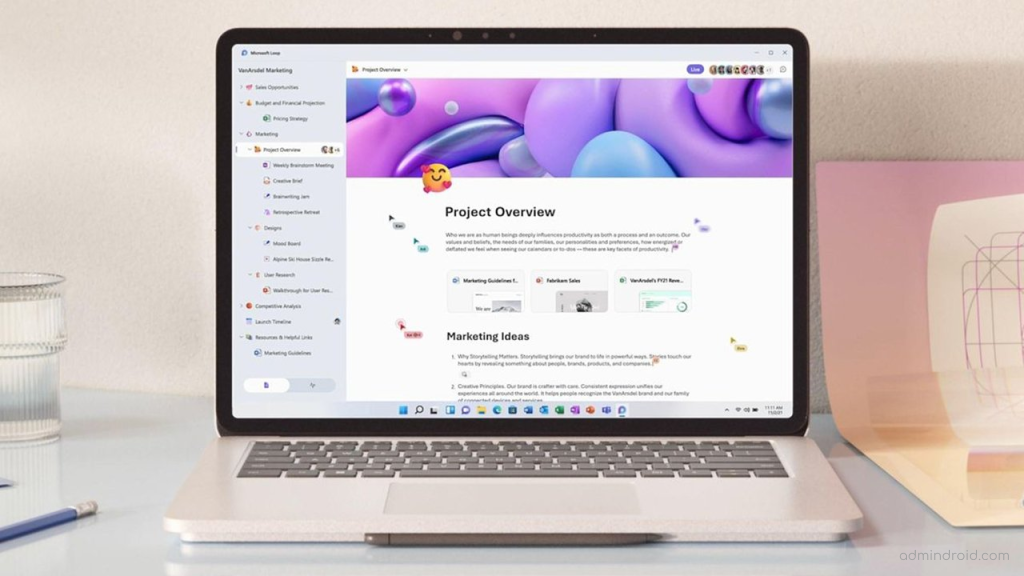 Stay connected to the latest information and never miss a beat with real-time contribution capabilities!
How to Enable Microsoft Loop App Public Preview?
Note that the public preview is OFF by default due to some compliance limitations, yet you can enable it for your organization on your own using a cloud policy.
Step 1: Start by creating a security group that includes all the users in your organization who need access to the Loop app during the Public Preview.
Step 2: Create a Cloud Policy specifically for the Loop app. This policy should be scoped to the security group.
Step 3: Allow some time for the policy settings to propagate throughout your organization. Depending on the size of your organization, this may take up to an hour.
Step 4: Ensure your firewall rules permit all the necessary services for the Loop app. This will help ensure a smooth user experience and prevent any issues with accessing the app.
How to Create Cloud Policy to Enable Microsoft Loop App?
Step 1: Sign into Microsoft 365 Apps admin center.
Step 2: Navigate to Customization –> Policy Management.
Step 3: Select Create a new policy and name it with proper description.
Step 4: Under Scope, select an appropriate security group to apply the cloud policy.
Step 5: Under Policies, search for Loop and you will find these settings:
➡ Create and view Loop files in Microsoft apps that support Loop
➡ Create and view Loop files in Outlook
➡ Create and view Loop files in Loop
Step 6: Click on each setting and change the configuration to Enabled status.
Step 7: Finally, review and publish the policy.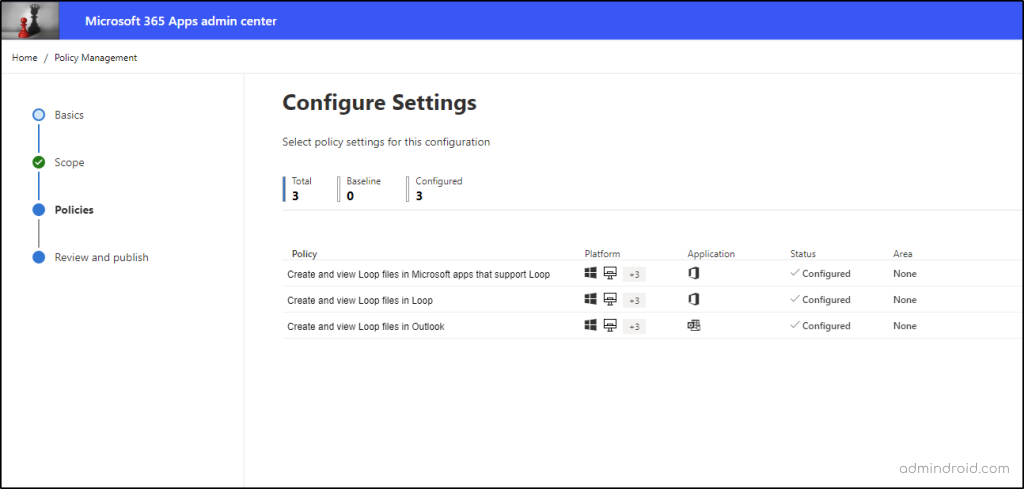 Manage Microsoft Loop Components with SharePoint
You can enable or disable all loop components across your Microsoft 365 organization with the latest version of SharePoint PowerShell module. Loop components are enabled ON by default.
Follow the below cmdlets to know whether loop component setting is enabled in Teams, Microsoft Whiteboard on OneDrive, and Microsoft OneNote.
Firstly, connect to SharePoint Online in PowerShell.
Connect-SPOService –Url https://tenant-admin.sharepoint.com/ 
Then, run the following cmdlet.
Get-SPOTenant 
To ensure whether loop component is enabled in Teams, check whether the following property is True.
IsLoopEnabled : True 
To ensure whether loop component is enabled in Microsoft Whiteboard on OneDrive, check whether the following property is True.
IsWBFluidEnabled  : True 
Note – It is also important to note that IsFluidEnabled property is recently retired by Microsoft which enables the fluid framework within a tenant. This property is now replaced with IsLoopEnabled.
To ensure whether loop component is enabled in Microsoft OneNote collaborative Meeting notes, check whether the following property is True.
IsCollabMeetingNotesFluidEnabled : True 



How to Enable Microsoft Loop Components in the Organization?
You can enable Loop components by running,
 Set-SPOTenant -IsLoopEnabled $true. 
To disable Loop components, run
Set-SPOTenant -IsLoopEnabled $false 
It will take a short time for the changes to be implemented across your organization.
How Microsoft Loop Components Will Transform Teamwork?
Microsoft Loop is a platform for team collaboration that aims to increase awareness of cooperation, organize project pages in a central location, and make synchronous work more efficient.
It offers various components for co-authoring, brainstorming, compiling data, managing projects, and focusing discussions, allowing teams to communicate and work together in real-time.
It lets us experience real time collaboration no matter where the team is located, with a central workspace that organizes all project components.
Interesting Updates on Microsoft Loop Components
As more loop component updates will be added over time, be prepared to stay ahead of the curve!
Loops will soon be supported in SharePoint sites, making it possible for you to use them in team channel conversations and channel meetings.
New loop components were announced recently and will include Polls and Q&A.
In a motive to enhance security, Microsoft extended the integration of sensitivity labels and Data Loss Prevention in Loop Components.
Loop components have limited eDiscovery support and are stored in the creator's OneDrive for Business, available for search and collection. They do not preview or export in a format that can be used by existing tools but can be viewed by uploading them to OneDrive for Business.
Note – Microsoft has not decided if Loop will be part of the standard Microsoft 365 subscription or offered in a premium package. It will be known when the product gets released completely.
I hope this blog helped you gain knowledge on Loop Components in Microsoft 365. Stay tuned and get going with Loop! We will keep you posted with the latest updates and insights. For further assistance, feel free to shoot your questions!