On Day 26 of Cybersecurity awareness month, learn to gain insight into the current level of security in the organization with Microsoft Secure Score. Stay tuned for more blogs in the Cybersecurity blog series.
Nowadays, it is challenging for organizations to stay protected from the constant evolution of threats. In order to cope with major threats to security, companies of all sizes are increasing their spending on cybersecurity solutions. Hence, Microsoft came up with a simplified and efficient security solution to safeguard from security vulnerabilities. The best part is that Microsoft Secure Score comes complimentary with your subscription.
At the end of the day, the goals are simple: safety and security.

-Jodi Rell
Microsoft Secure Score is the perfect tool for assessing your organizational security postures. It allows Microsoft 365 users to gain insight into the current level of security and helps you make improvements in weak areas.
What is Microsoft Secure Score?
Microsoft Secure Score provides organizations with information on their current level of protection and calculates a score based on it. This threat and vulnerability management tool also suggests enabling other security features that you are not even aware of. The higher the score, the more security practices the organization has, while the lower the score, the more susceptible it is to attacks. A security score below 50% indicates a lack of best security practice. In terms of security, an organization should aim to reach 80%, but be aware that this may require additional subscriptions like Azure AD P2, E5, etc.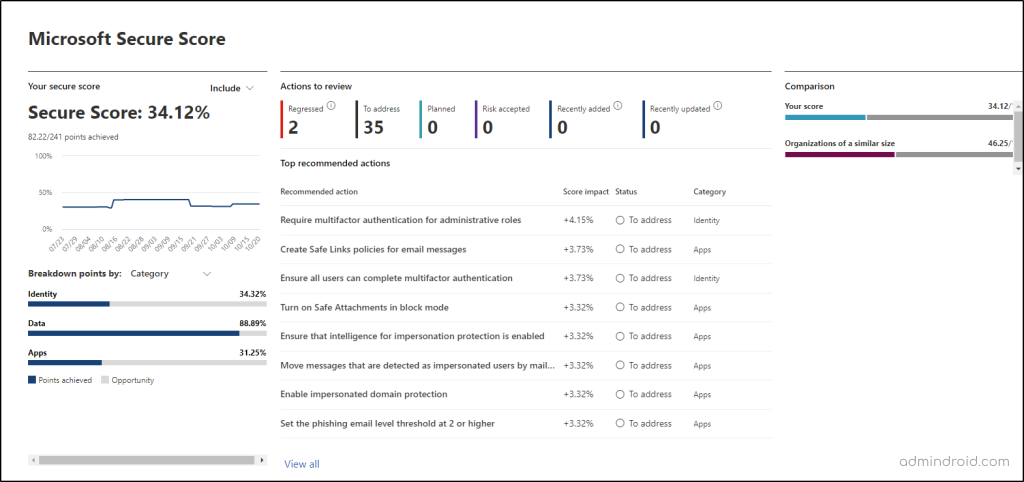 Can Secure Score be applied to all Microsoft Services?
Take a look at the Microsoft products that are taken into secure score calculation.
App Governance
Azure Active Directory
Microsoft 365 (including Exchange Online & SharePoint Online)
Defender for Endpoint
Defender for Identity
Defender for Office
Microsoft Defender for Cloud Apps
Microsoft Information Protection
Microsoft Teams
Salesforce (In preview)
ServiceNow (In preview)
How are Secure Score Points Given?
Relative Scores are calculated based on the settings you can configure and those you have configured. Microsoft secure score adds certain points to your score when you work on every suggestion. In some cases, partial points are given if only a few people have configured as suggested. Let's say secure score recommends enabling multifactor authentication in the organization. It is estimated that if only 70% of the users have been configured, the score will be 7/10.
What Are All the Settings You Can Configure to Reach an Ideal Secure Score?
Here are some recommended settings that can boost your organization's secure score. Users don't require any advanced subscriptions to configure these settings.
Do not allow Exchange Online Calendar details to be shared with external users.
Configure which users are allowed to present in Teams Meetings.
Only invited users should be automatically admitted to Teams meetings.
Restrict anonymous users from starting Teams meetings.
Limit external participants from having control in a Teams meeting.
Restrict dial-in users from bypassing a meeting lobby.
Microsoft has further specified that full points will be given for the enhancement measures if security defaults are enabled. Since Microsoft is making security defaults available to everyone, they are free of cost.
Ensure all users can complete multi-factor authentication for secure access (9 points)
Require MFA for administrative roles (10 points)
Enable policy to block legacy authentication (7 points)
Who Can View Microsoft Secure Score?
Microsoft Secure Score can only be accessed by members of one of the following Azure Active Directory roles.
Full Access
Read-only Access
Global administrator
Security administrator
Exchange administrator SharePoint administrator
Helpdesk administrator
User administrator
Service support administrator
Security reader
Security operator
Global reader
What Details Can You Obtain From Microsoft Secure Score Graph?
Using Microsoft Secure Score, you can see how well your company performs in terms of cybersecurity. Scores will be expressed in percentages, along with the number of points achieved.
A Secure Score report identifies security flaws that need to be addressed. This information can be used to improve your score by making necessary improvements.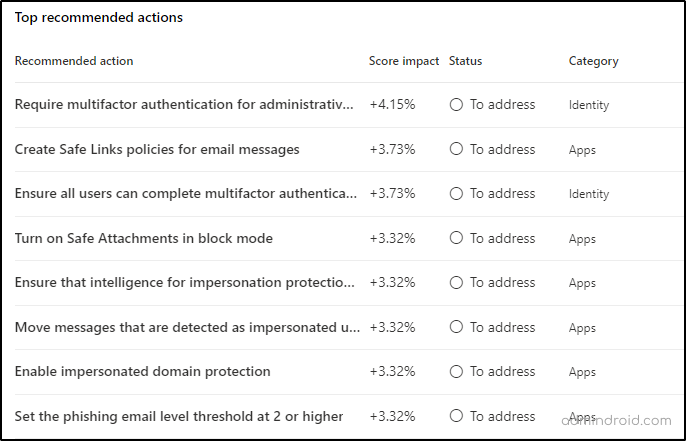 In the secure score page, you can obtain three different score views that includes planned score, current license score, achievable score.

You can view the comparison trends between your organization and the organization of your size. On the Metrics & Trends tab, you can examine how your Secure Score graph has developed over time.

In the history tab, you can gain insights into the activities that have affected your score. Further, customization of features like date range, score change, category, product, and update type can be made.

With the Metrics & Trends tab, you can analyze trends and set goals based on a variety of graphs and charts. You can see the following visualizations.
Your Secure Score Zone – You define what range of good, okay, and bad scores are appropriate for your organization.
Regression Trend – Timeline of points dropped by changes in configuration, user, or device can be seen.
Comparison Trend – The Secure Score of your organization compared with others over time.
Risk Acceptance Trend – You can see the timeline of improvement actions marked as risk accepted.
Score changes – The number of points achieved, points regressed, along with the subsequent score change, in the specified date range will be displayed.
Key Points on Microsoft Secure Score
Let's see what are all the benefits an organization can gain from Microsoft Secure Score.
Analyze your organization's entire digital footprint for security vulnerabilities.
Highlights the security defects that need to be addressed. These listings can be used to improve your score by making necessary improvements.
Allows easy understanding of trends through graphical representation.
For a quick customized overview, Microsoft categorized the info into identity, data, and apps.
Comparing your organization's secure score with others of similar size will give you a benchmark.
Ensure whether the organization complies with all security regulations and policies.
Assists in the establishment of Key Performance Indicators (KPIs).
Organization's Secure score and other related data can be exported as PDF or CSV files.
Start Using Microsoft Secure Score
With cyber threats becoming more frequent, you must ensure you are not leaving any gaps in your security or vulnerabilities. Microsoft Secure Score is a perfect starting solution for addressing cybersecurity threats. It provides suitable recommendations that can help boost the organization's security. So, try it before going to other solutions. 
Take Advantage of AdminDroid's Secure Score Insights  
As mentioned before, Microsoft Secure Score is a perfect tool for evaluating the organization's security, but managing its reports can be challenging and require technical expertise. It often demands extensive searching through complex audit records, making the process time-consuming and arduous. 😰🔍 That's where AdminDroid comes in.
AdminDroid Microsoft 365 auditing tool offers an exclusive set of audit reports under Microsoft Secure Score to help administrators manage their organization's security posture with ease. These reports provide a comprehensive overview of an organization's Secure Score, highlighting potential vulnerabilities. By analyzing these reports, organizations focus their efforts on the most critical issues and take proactive steps to prevent data breaches and cyber-attacks. 📋🔒
Microsoft Secure Score Reports Offered by AdminDroid:
Tenant's overall Secure Score
Security setting daily score/ recent score
Security setting scored zero/ scored full
Admin MFA score trend
MFA registration score trend
Mobile Device Management status reports
All tenants score trend
Tenant seats/Industry type score trend
Sign-in/User risk policy score trend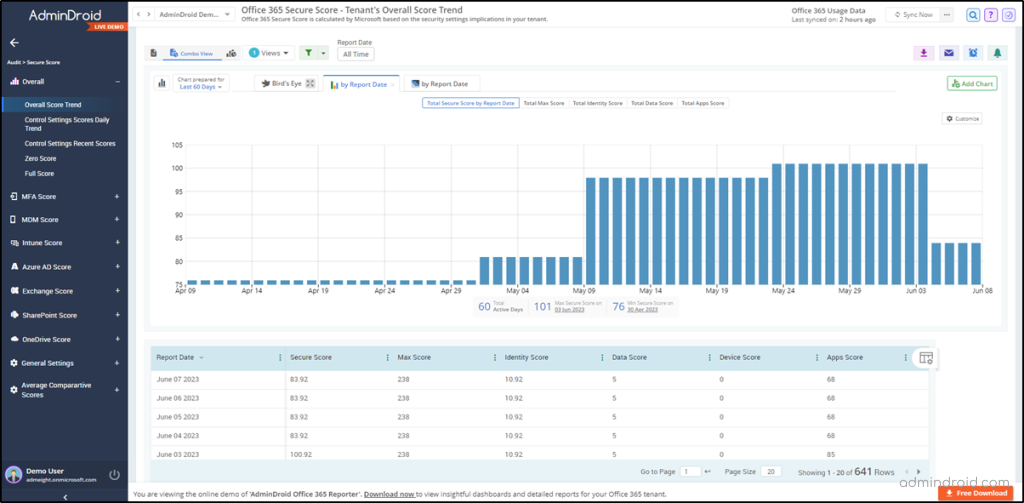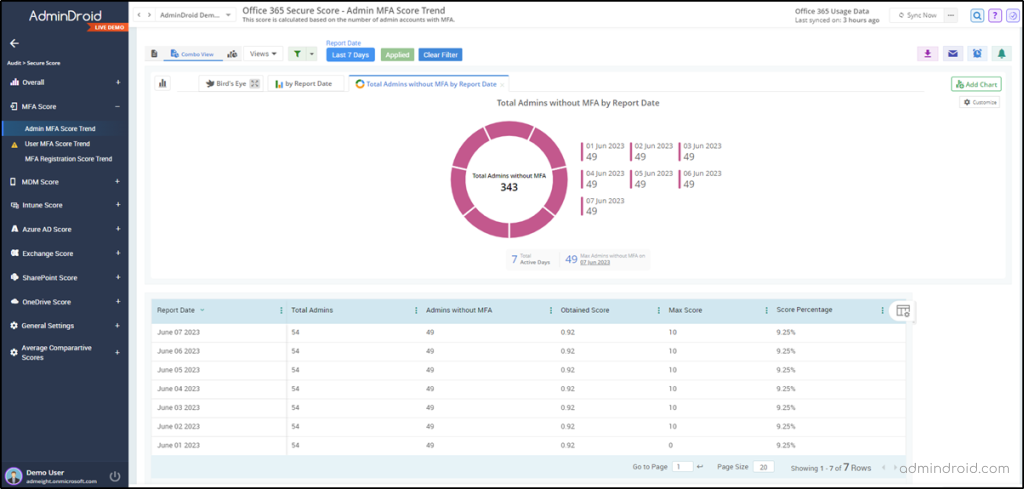 AdminDroid: One Stop Solution for All Administrative Needs
AdminDroid is a powerful solution that excels at helping businesses overcome security challenges over time. With its robust set of 1800+ reports, AdminDroid has you covered for all the Microsoft 365 reporting and auditing requirements. With the ability to set up custom alerts, the AdminDroid alerting tool empowers admins to proactively identify and mitigate potential security threats before they can cause harm.
Another noteworthy feature of AdminDroid is Microsoft 365 delegation. This functionality allows admins to delegate reporting and auditing tasks to other team members, freeing up their time for more critical tasks. Additionally, scheduling allows admins to automate report generation and ensure that they always have the latest information at their fingertips.
AdminDroid provides admins with an assortment of features which is an absolute treat to enhance the overall experience with Microsoft 365. It simplifies the process of generating reports and makes it a hassle-free experience.