Hold onto your seats, tech enthusiasts, because Microsoft has just dropped a bombshell that's set to change the way you interact with technology forever! Imagine having a digital companion that's always by your side, seamlessly connecting your digital world across Bing, Edge, Microsoft 365, and Windows. Well, it's time to stop imagining and start believing because Microsoft 365 Copilot is here!
Microsoft 365 Copilot, initially revealed in March, is set to launch first in Windows on September 26 and then for Enterprise customers on November 1, 2023. Let's get started to know the pricing of Bing Chat Enterprise and Microsoft Copilot and what it has in store for you. 🚀
Microsoft Copilot for Windows – Everyday AI Companion
Microsoft Copilot for Windows is like the upgraded and super-smart version of Cortana, using AI to make tasks super easy. Microsoft says it can rewrite, summarize, and explain what's on your screen. You can also ask it questions, just like Cortana. 
Microsoft Copilot in Windows is the key to getting more work done effortlessly. You can easily access Copilot from the taskbar or with the Win + C keyboard shortcut. It's like having a helpful friend that guides you through all the Microsoft apps.
What's New and the Pricing of MS Copilot for Windows?
Microsoft Copilot in Windows now has a sleek new icon and an enhanced user experience –Bing Chat Enterprise. Best of all, it's free for the valued commercial customers, generally available from September 26! 🤩
Bing Chat Enterprise – Business Chat Companion
Bing Chat Enterprise is nothing but an AI-powered chat with enhanced commercial data protection. Here, your chat data remains secure, with no data retention, no direct access to Microsoft, and no utilization of your data for training large language models (LLM).
What is the Pricing of Bing Chat Enterprise?
Bing Chat Enterprise is accessible as a standalone service at just $5 per user per month, and it's also bundled with Microsoft 365 E3 and Microsoft 365 E5 subscriptions. 💰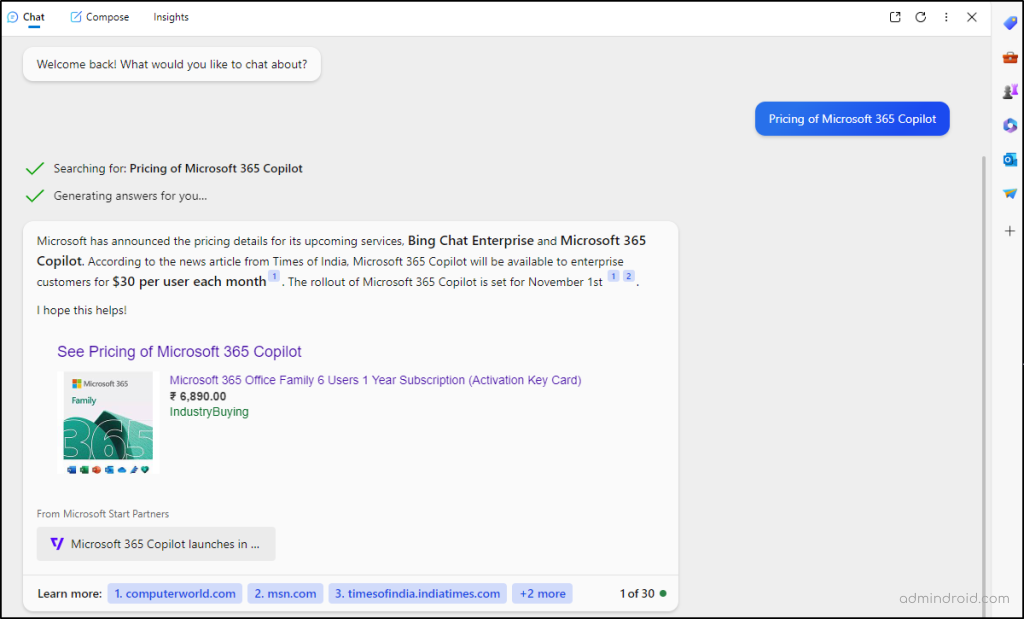 Microsoft 365 Copilot – AI Assistance at Work
Microsoft 365 Copilot is a cutting-edge AI-powered assistant seamlessly integrated into the Microsoft 365 suite of applications and services. This innovative tool is designed to enhance productivity and user experiences across the entire Microsoft 365 suite.
Remember Microsoft Clippy? It was designed to help users with various tasks, offering tips and suggestions. While some found Clippy endearing, many users found it more annoying than helpful, leading to its eventual retirement.
Well, Microsoft 365 Copilot is its evolved, supercharged sibling! Copilot actively boosts creativity, assists with data, and simplifies tasks in Microsoft 365 environment. It's the modern, productivity-enhancing assistant that focuses on top-notch security, privacy, and compliance, all within one single location.💫
What can you do with Microsoft Copilot?
Microsoft Copilot enhances creativity in Word, analyzes Excel data, enhances PowerPoint presentations, streamlines Outlook inbox management, optimizes Teams meetings, and even goes beyond. Check out how Copilot capabilities are extensive and tailored to enhance your overall productivity.
What is the Pricing of Microsoft Copilot for Enterprise Customers?
Microsoft Copilot, already trusted by tens of thousands in the Early Access Program (EAP), will be accessible to enterprise customers for $30 per user per month starting November 1st. 💰
What are the Licensing Requirements to Buy a Microsoft 365 Copilot Addon?
Users must first possess Microsoft 365 E3, E5, or Microsoft 365 Business licenses as a prerequisite to incorporate Copilot into Microsoft 365 workflow.
How to Access Microsoft 365 Copilot?
Microsoft 365 Copilot is currently in the Early Access Program, which means it's exclusively accessible to selected customers during this initial phase. However, once the product becomes generally available, any interested customer should have the opportunity to obtain licenses and give it a try.
Microsoft 365 Chat – Data Powered AI Conversations
One exciting addition to the Microsoft 365 Copilot ecosystem is Microsoft 365 Chat, which bears a strong resemblance to Bard-AI. However, the key differentiator lies in the fact that Microsoft 365 Copilot's chat has the unique ability to tap into the wealth of information housed in Microsoft 365 repositories.
Microsoft 365 Chat thoroughly scans through all your data—emails, meetings, chats, documents, and the web—to solve complex work issues. This powerful tool has been integrated into Microsoft 365 apps namely SharePoint Online, Microsoft Teams, OneDrive, Outlook, and so on.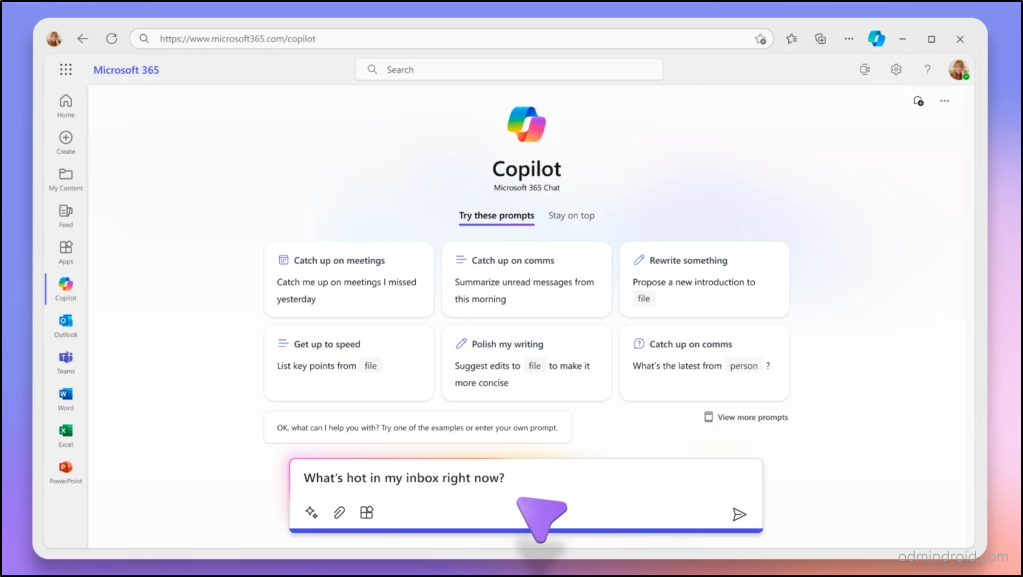 Well, it's not over! There comes Copilot Lab taking the spotlight of the announcement! 📢
Microsoft Copilot Lab – Learn to Give Best Prompts
Let me give an overview of what it is about. Think of Copilot as a learning AI assistant, like ChatGPT that needs your guidance to perform well. Without good instructions, Microsoft 365 Copilot won't work as well as it can. It can't guess what you need; you have to tell it clearly!
This is where Microsoft 365 Copilot Lab comes in. It's a special place where you can learn to give better instructions and share what you learn with others. With Copilot Lab, you can learn to turn good instructions into great ones, share your best prompts with coworkers, and be part of a group of learners. Once Copilot Lab is available to everyone, it will be part of Microsoft 365 Copilot and will have a website that Copilot users can use. 💻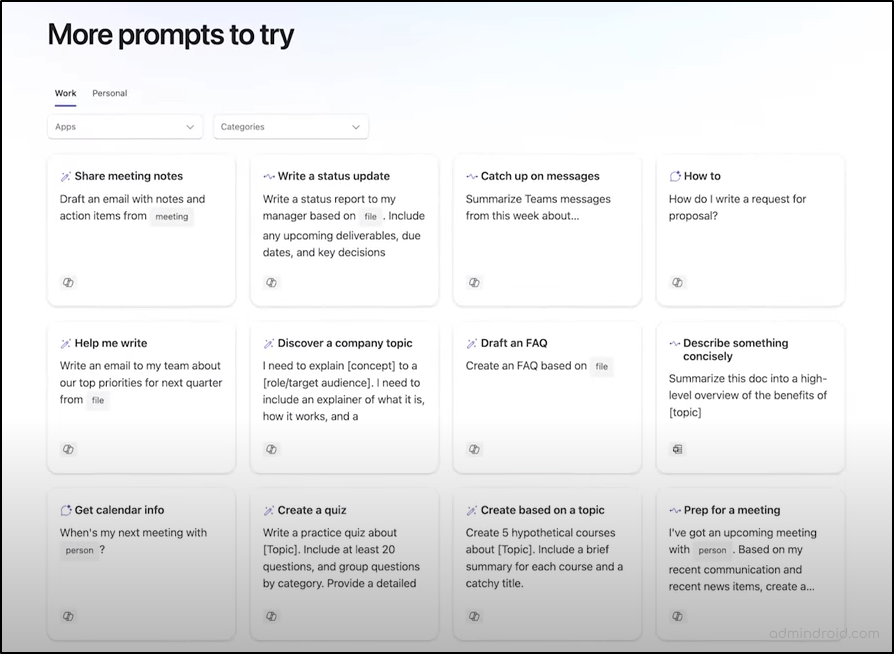 Future of Microsoft 365 Copilot: What's Next in the Line?
Microsoft is continuously working on new Copilot features across Microsoft 365 applications, set to be available for commercial customers in November unless noted as 'coming soon'. Have some heads up on what you can do!
Copilot in Outlook makes email management easier by summarizing threads, giving insights, and letting you draft messages in your style. It also helps you catch up on Teams meetings and notifies you when recordings are done. 
Copilot in Teams streamlines collaboration by providing intelligent suggestions for meetings, tasks, and messages, making teamwork more efficient and productive.
Copilot in Word transforms your writing process by offering detailed document summaries, paragraph rewrites with tone adjustments, prompt refinements, and formatting assistance.
Copilot in OneDrive offers file-specific insights and content summaries without the need to open the file.
Copilot in Excel empowers you to analyze and visualize data like a data analyst, with formula column additions, data highlighting, filtering, sorting, and advanced analytics capabilities.
Copilot in Loop enables collaborative creation, quick Microsoft Loop components generation, status updates, and code block suggestions.
Copilot in OneNote helps organize and enhance your notes with comprehensive questions, quick summaries, and efficient editing.
Copilot in Stream extracts insights from videos, provides summaries, answers questions, identifies relevant video sections, and suggests follow-up actions.
The future of work is undoubtedly evolving – Microsoft 365 Copilot is not just about technology; it's about empowering you to work smarter and collaborate seamlessly. 🙌🏽
So, stay tuned, embrace the future of productivity with Copilot, and make the most out of your Microsoft 365 experience. If you have any questions or need further information, don't hesitate to reach out.