All your struggle as an admin in Microsoft 365 reporting & auditing is over now! Bringing a handy solution to all your Office 365 reporting issues with Microsoft 365 Built-in Reports – Blog Series. A series comprising all built-in reports available within all your Microsoft 365 admin centers.
You can monitor your Microsoft 365 users, their usage, external user activities, invading threats, etc., under every service in stride through this series. The list of Microsoft 365 services covered is as follows:
Without further delay, let's dive into the next service of this series– Viva Engage, a rebranding of Microsoft Yammer that integrates existing services and newer experiences into Teams as an application. Microsoft Viva Engage is a corporate social network to share knowledge, make announcements, enhance internal collaboration, deliver organizational insights, etc. 🌐
This blog will primarily walk you through the native Viva Engage reports in Microsoft 365. So, let's jump in.

Microsoft 365 Viva Engage Reporting
We have seen through the pages of history that a lack of internal communication is the root cause of the downfall of huge enterprises and businesses. Recognizing this critical need, Microsoft Yammer emerged as a vital social tool, designed to foster seamless communication, collaboration, and engagement among your enterprise co-workers. With all those existing capabilities of Yammer, here comes Viva Engage adding certain advanced elements to Yammer, such as having storylines and stories in the community. The Viva Engage app integrates the experiences powered by Yammer into Microsoft Teams for easy communication and collaboration.
And as an admin, monitoring Viva engage activity reports is essential for several reasons, such as analyzing engagement metrics, promoting active participation, fostering collaboration through group creation, and encouraging leadership communication. Therefore, here comes the built-in Viva Engage reports in Microsoft 365 to ease your burden in monitoring your organizational communication and collaboration metrics.
So, here is the list of multiple reports available in Viva Engage to enhance your monitoring experience and improve internal communication.

Viva Engage Reports in Microsoft 365 Admin Center
Do you know how your employees use Viva Engage to collaborate and communicate?
How to find the most active Viva Engage users and see how they contribute?
What is the overall volume of Viva Engage activity, and how has it changed over time?
No worries if you don't know the answer! Microsoft has got you covered with Microsoft 365 Viva Engage reporting through the native admin center. Although Microsoft renamed Yammer into Viva Engage, it's still working on the renaming process in the admin center.
Thus, for now, the Microsoft 365 admin center Yammer activity reports provide detailed information on every user & group activity, device usage, and more.



How to Track Viva Daily Active User, Number of Posts, Liked Counts, Reads in Yammer?
Couldn't think of an appropriate way to find the user adoption in Yammer? Drop your worries! Microsoft 365 Viva Engage Activity Reports provides the solution!
This report primarily tracks the Viva Engage usage in your organization. It grants analytics on daily active users, post counts, and liked counts, helping admins monitor the engagement of Viva Engage within the organization.
By analyzing this Viva Engage report, admins can get a clear understanding of the usage patterns and interaction dynamics among Microsoft Viva Engage users.
More Info – https://learn.microsoft.com/en-us/microsoft-365/admin/activity-reports/viva-engage-activity-report

Link to Report: https://admin.microsoft.com/Adminportal/Home?#/reportsUsage/YammerActivity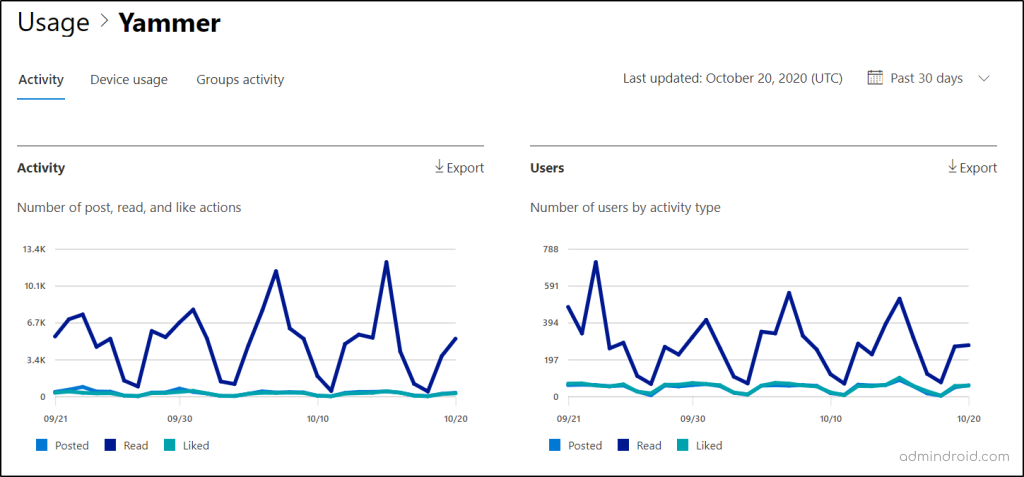 How to Get Microsoft 365 Viva Engage Device Usage Reports?
Worried about unauthorized device access in your organizational connecting platform, Viva Engage? Of course, that might cause a loophole in your organization leading to cyber threats.
No worries, Microsoft Viva Engage device usage reports are here to help you! This report provide daily and overall user counts by device type over a selected period. Thereby offering insights into which devices users are using to access Viva Engage.
Through a thorough investigation of this Viva Engage device usage metrics in the admin center, admins can have deeper insights about the platforms used by users and protect the confidentiality & privacy of data.
More info – https://learn.microsoft.com/en-us/microsoft-365/admin/activity-reports/viva-engage-device-usage-report
Link to report – https://admin.microsoft.com/Adminportal/Home?#/reportsUsage/YammerClientsUse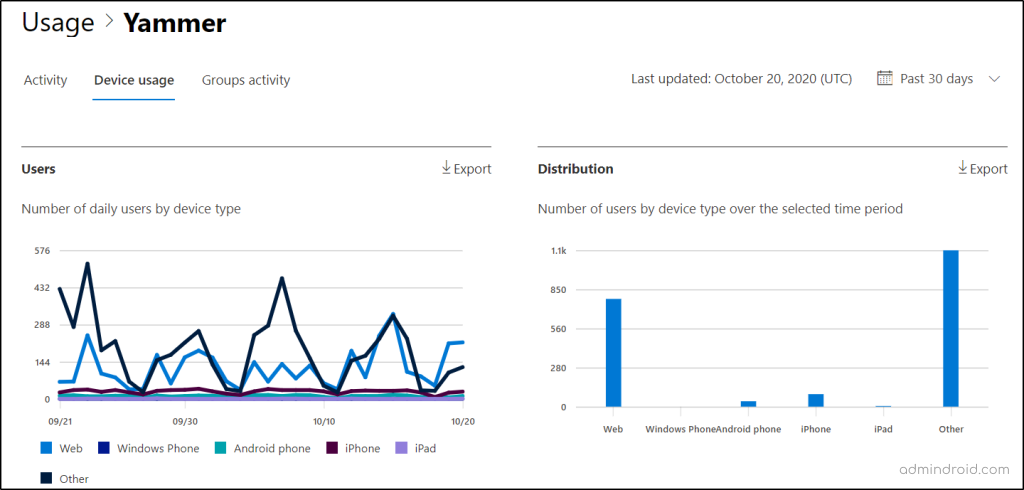 How to Check Groups Activity in Microsoft Viva Engage?
Wondering how to find Yammer groups created and deleted, who participated, and what activities took place? Then, Viva Engage Groups Activity Reports is here to show you all the info! Also, you can check the group members, posts & engagement metrics of Viva Engage groups, like the number of messages posted, read, liked, etc.,
Moreover, admins should skim and scan the group activities in Microsoft Viva Engage keenly to tackle the communicational issues arise within your organization.
More info- https://learn.microsoft.com/en-us/microsoft-365/admin/activity-reports/viva-engage-groups-activity-report
Link to report-https://admin.microsoft.com/Adminportal/Home?#/reportsUsage/YammerGroupsActivity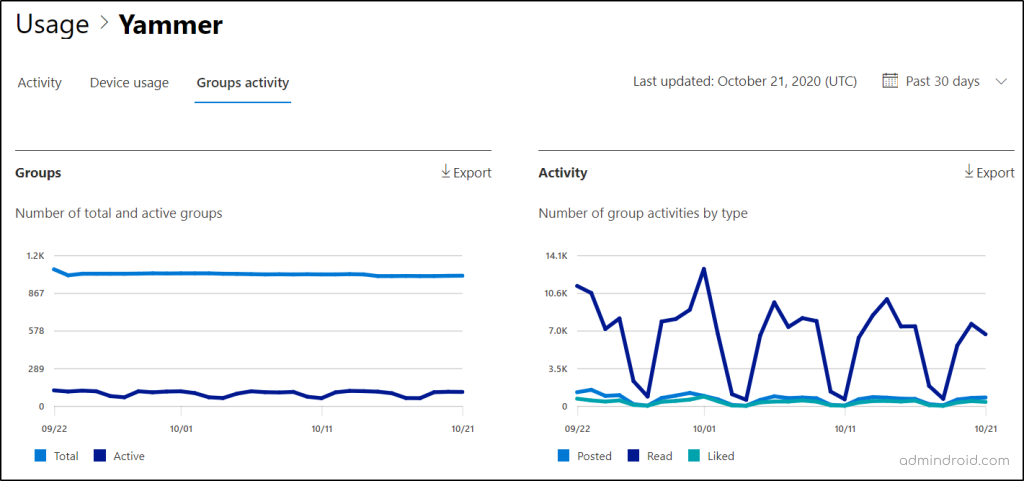 The New Viva Engage Admin Center in Microsoft 365
Microsoft now introduces the Viva Engage admin center where admins can configure the tenant, supervise security, maintain compliance, and build engagement. The Viva Engage admin center can be accessed on the web or from the Viva Engage app in Teams. The services available in the admin center are as follows.
Setup & configuration

Manage corporate communicators
Tenant settings

Governance compliance
Feature management
The actions that can be taken in the admin center include,
Assign and manage admins for Viva Engage to supervise the environment.
Frame your organization's data retention and export policies
Govern and control Viva Engage user permissions.
Set up your Viva Engage network and usage policy.

View Reports in Viva Engage Admin Center
How to retrieve Viva Engage network data?
How to export a report on Viva Engage users?
Microsoft 365 admin center reports help you with an overall understanding of how Viva Engage is used and activities happening around your organization. But for the drilled-down users and users-specific reports you need to leap to the Viva Engage admin center, a place that gives you control access to the Viva Engage enterprise as an IT admin.



Export Viva Engage Admins and Users Report
First and foremost, navigate to the Data Export page in the Viva Engage admin center using the path below.
Viva Engage 🡢 Settings 🡢 Admin Center 🡢 Governance and compliance 🡢 Data Export
Here is where all the Viva Engage analytics reports can be found! So, to export the users & admins list, you can use the "Export data for all users" section. Now, enter the specific date range you want to get the report for and hit the "Download CSV file" button.
The exported user report lists information such as their email address, title, location, etc., for a deeper understanding of Yammer users. Furthermore, admins can export the files & folders that are attached to users and admins by selecting the "Include attachments" option during export.
By including this option, admins can view all the files that were created, modified, or stored in Viva Engage or otherwise, they will receive only the list containing file names.
Exported Engage admins reports can be utilized to review and assign proper roles & permissions.
And admins can export and utilize this report for the purpose of eDiscovery and compliance apart from usage and content management.
More info- https://learn.microsoft.com/en-us/viva/engage/eac-as-manage-data#export-user-and-admin-list
Link to report- https://www.yammer.com/


Export Viva Engage Enterprise Data
Want to know about your Microsoft Yammer (Viva Engage) network? Look no further! In the Viva Engage admin center, the " Export tenant data" report allows you to export Microsoft Yammer network data.
This report provides a transparent overview of both your home & external networks. Administrators can efficiently access and understand the data, gaining valuable insights into their internal and external networks.
This enterprise data report offers information on various aspects of your Yammer environment, like users, groups, files, liked posts, Engage admins, Viva Engage leaders, Viva Topics, Viva Topic Curation State logs, and many more for an entire view of your Viva Engage.
With access to such a diverse range of data, admins can delve into collaboration patterns, identify key contributors and influencers, track content engagement, and gain insights into how Viva Topics are being utilized across the platform.
This deep analysis helps admins to optimize their collaboration strategies, enhance user engagement, and ensure complete data transparency, fostering a more dynamic & efficient Yammer community.
More info – https://learn.microsoft.com/en-us/viva/engage/eac-as-manage-data#export-tenant-data-by-date-range
Link to report- https://www.yammer.com/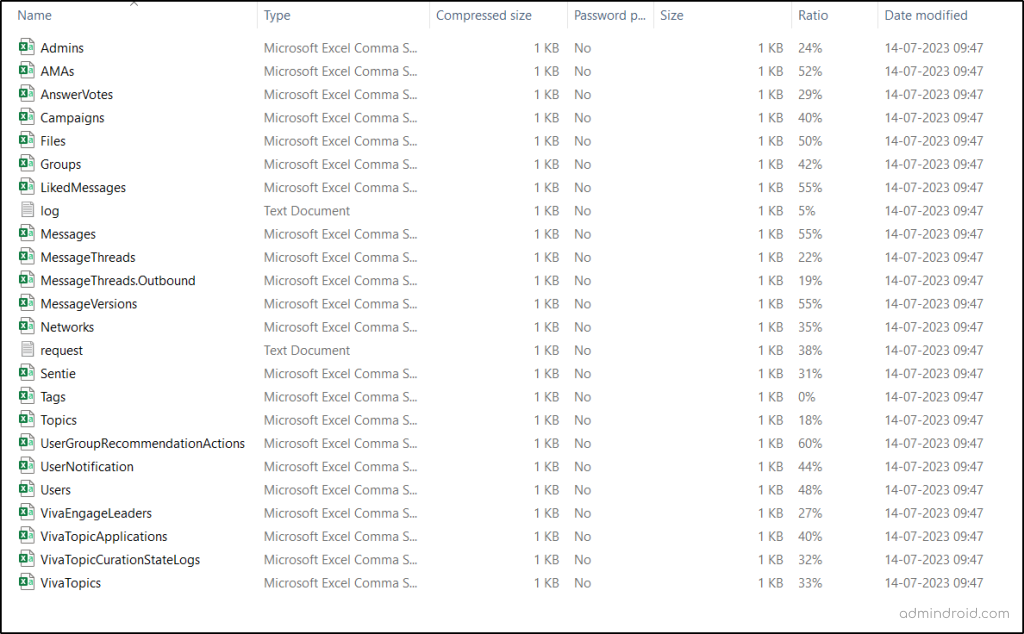 Export Viva Engage User Data
Although having the users list on hand, are you searching for a comprehensive user-specific report? Then, ""Export data for a single user" section is what you might be searching for! 😌 Here, you can export particular Yammer user data from the Viva Engage admin center.
Rather than viewing in the stack of records, identify a particular user's participation & contribution by just providing the username or ID! A zip file containing user data is exported (Image attached below). Also, once the users' account activity data is available, the admin will receive a message including a link in the Viva Engage inbox.
This report contains essential information, such as Viva Engage user profile, user settings, Yammer group insights and actions. Additionally, it includes Yammer reactions such as posts read, liked, or posted messages, as well as an overview of Viva Engage file storage.
Furthermore, you can access the Viva Engage telemetry data report, which provides a record of all user-performed actions, including event names, IDs, and their respective counts. Monitoring these reports is crucial for admins to ensure that users are engaging in ethical activities and to foster a friendly environment for all Viva Engage users.
More info – https://learn.microsoft.com/en-us/viva/engage/eac-as-manage-data#export-data-for-one-user
Link to report- https://www.yammer.com/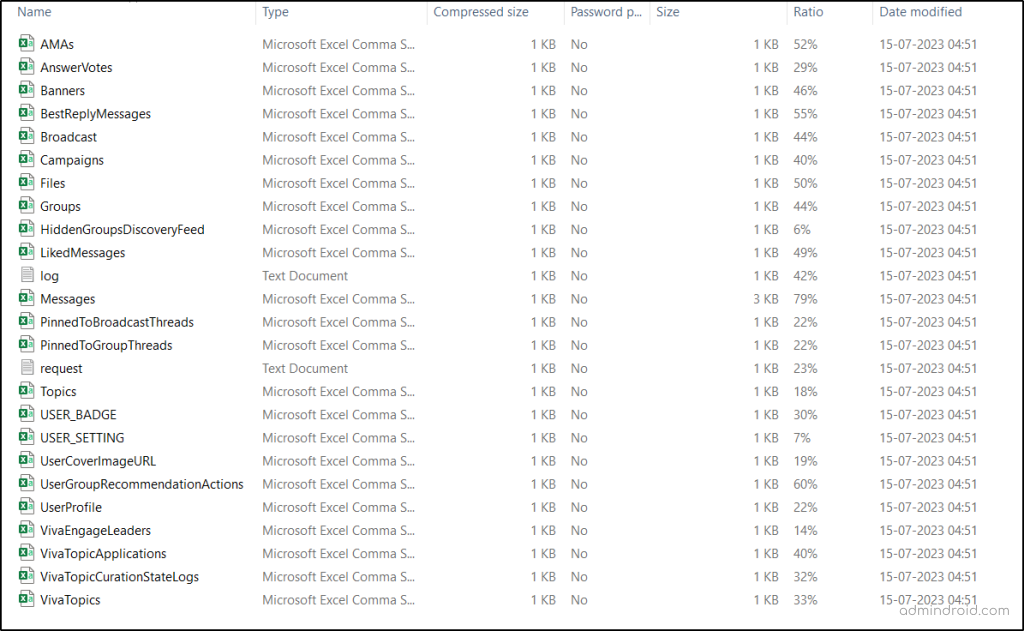 Viva Engage Reports: A Recorder of Internal Communication
Communication is the silent driving tool of an organization! 🚀 As Yammer is one of the communication mediums of the remote work culture, it demands continuous and proactive monitoring! Don't let internal communication level down in your organization by monitoring their trends and patterns with Viva Engage analytics reports. Be aware of your organization's communication and collaboration level to enhance users' productivity by monitoring these native Viva Engage reports.
Finally, we hope this blog made you clear about Viva Engage reporting and its key aspects in Microsoft 365. Share your reporting experience and queries through the comments section.